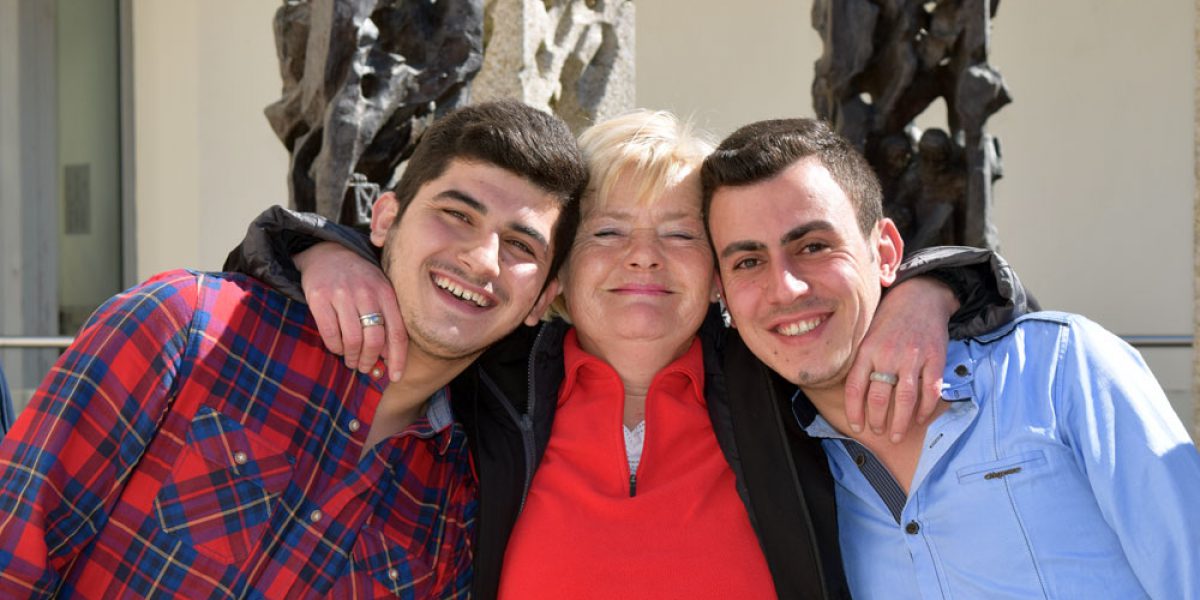 By Danielle Vella, JRS Europe
"In Libya, we were on the road to Tripoli in three vehicles, about 120 people in each, most of us Eritreans. We were in the first, ISIS caught the second or third. They let three people go, because they were Muslims, and they ran after our vehicle."
What happened to the others? Twenty-one-year-old Tigiste shrugged her shoulders. "As if we know!"
Tigiste escaped forced conscription in Eritrea. She met her husband in Sudan; he fled Eritrea after deserting from the army. He had been forcibly recruited as a teenager, literally pulled from his bed one night and carted off to barracks.
The couple came to Europe via the Sahara and Libya, and eventually managed to reach Germany, where I met them in a cosy shelter in a village called Kirchheim outside Munich.
Throughout her journey, Tigiste was aware of the risks involved and calculated the odds – as she saw them – at every perilous step.
"The journey across the sea was bad, but better than the rest, and certainly better than going back to Eritrea. In the sea, if you die, I guess you die in one minute, and it's over. And if you reach Italy, you reach."
One definition of luck: success or failure apparently brought by chance rather than through one's own actions. This is what the journey of millions of refugees depends on. Tigiste's luck held. But not all who make the gamble for life enjoy the same fortune.
In recent weeks, starting from Greece, I visited countries on the so-called Balkan route that hundreds of thousands of refugees took into Europe this past year. And I went to Italy, the point of arrival of most refugees who come via the central Mediterranean. My last destinations were Austria and Germany.
Many told me they left their country only after narrow escapes from death. Like Omar, who left Damascus after three bombs were dropped on his daughter's school. The girl was unharmed but Omar didn't want to push his family's luck anymore.
Sara, from Aleppo, recalled running from a sudden attack on her neighbourhood: "If you have good fortune, you pass; if you're not lucky, you die."
The Russian roulette continues on the route, especially in places that are virtual death traps, like the border between Iran and Turkey; the Sahara and Libya; and the stretch of sea travelled in overcrowded and often flimsy boats.
Refugees don't make the rules in this life-changing game: it is other, more powerful players who do that, like smugglers, for example, or policymakers. The rules can change suddenly and arbitrarily. This is what thousands of refugees discovered this past month, when they finally managed to travel to Greece, only to find that the Balkan route is now closed.
A young Afghan woman in the Kirchheim shelter told me earnestly: "A lot of refugees are in Greece, I want the border to open. When a person is on the way, they want to reach somewhere. It is a very, very difficult situation. I suffered too, I experienced these things, please open the border."
As for the refugees who come to Greece from now on, they face mass deportation to Turkey, thanks to a controversial and confusing deal reached between the EU and Turkey.
Visiting a language class for refugees in Vienna, I was introduced to a young Hazara couple from Afghanistan. They told me they lived in Turkey for nearly five years. And how was life there? Maryam shook her head. Her husband, Hamid, said: "Turkey did not accept us as refugees. We were always afraid we would be caught and deported."
So they lived in the shadows. Their five-year-old daughter could not go to kindergarten. Hamid worked in a textile factory, earning 450 euro a month for 11 hours of work a day, six days a week. "The money we got for one day was not enough for one day."
Hamid and Maryam kept trying to take a boat to Greece, even after police apprehended them several times, and after a smuggler disappeared with 4500 euro of their hard-earned money.
For Hamid, the worst moment came when his wife was about to give birth. "We went to hospital but they didn't accept her because we had no papers. So she had to give birth at home."
Maryam will soon bear her second child in Vienna. At least she can rest assured she will give birth in hospital this time.
But the couple's worries are not over. Theirs is now a waiting game because they have not been granted asylum yet. "God knows what life is hiding from us," said Hamid. "We are so worried because no one gives any answers. We've been waiting for seven months. When I asked, I was told, 'you'll get an interview one year from now.'"
A Syrian mother in Austria packed all her nail-biting anxiety into two heartfelt words: "Inshallah interview!"
In a huge shelter in Munich that houses some 850 people, I heard more from Abdullah, a fiercely proud young Afghan. "I've been here for nine months and I don't have an interview date. At least hear me out – I have proof, my body itself is proof." Back in Kabul, five masked men stabbed Abdullah 15 times outside his home, accusing him of not being Muslim, of working for Americans and Germans, and other 'crimes'.
Abdullah did not come via Greece but overland from Turkey to Bulgaria and so on. Since he cannot move swiftly anymore, he was injured again on the border between Bulgaria and Serbia, when Bulgarian police opened fire on refugees who refused to stop.
When I listened to others, I realised that in one thing at least, Abdullah was lucky. He wasn't asked to give his fingerprints along the way. So he cannot be traced as per the Dublin Regulation, which stipulates that refugees should file their asylum application in the first EU member state they enter.
Sherzad, Kovan and Peshtiwan, Yazidis aged 19, 20 and 21, travelled the same overland route as Abdullah. The young men each paid between 9,000 and 11,000 euro upfront to smugglers in Iraq who 'organized' their trip to Germany. Travelling separately, all were caught en route, and their fingerprints gave them away.
Says Kovan: "Bulgarian police stopped me at the border with Serbia. For two days I stayed in a camp, where I was beaten and not fed. Then I was taken to prison. I stayed eight days. I was threatened that if I did not give my fingerprints, I would stay a long time."
A few months after reaching Germany, Kovan received one day's notice of his deportation to Bulgaria. A volunteer at the shelter, where Kovan was staying, advised him to seek church asylum immediately. Much the same happened to the other two.
It was Dieter Müller SJ of JRS Germany who referred the Yazidis to the parish of St Joseph in Tutzing, an affluent town just outside Munich. They will stay on the parish premises until their deportation order expires, up to six months. Dieter says some 600 refugees sought protection in churches across Germany in 2015, invoking the ancient Christian tradition of sanctuary. He disputes the government's disgruntled claim that church asylum is illegal, although he admits it "stretches the law" for a good cause, "to ensure a fair application of the asylum procedure".
And here luck plays a hand again. Timely practical support, like that extended by Dieter and Fr Peter Brummer, parish priest in Tutzing, can make or break the future of individuals. Happily, there are many Europeans who are eager to lend support in one way or other – the flip side of Europe's much-publicized reluctance to welcome refugees.
Fr Peter has granted sanctuary to 10 refugees facing deportation over the past year. His first experience of church asylum dates back 20 years, when he welcomed a Kurdish family, whom Germany wanted to deport to Turkey. Fr Peter recalls the state prosecutor invited him for a meeting back then. "He asked me why I was doing this. I opened the Bible and told him to read inside for my answer. We had a very good conversation."
For Fr Peter and his parish council, "there is no doubt we have to do this", to welcome and to protect refugees. The encounter impresses him deeply. "You have to meet each other face to face, to hear the story. As we listened, the more we learned, as much as we could understand, the more our conviction grew."
He adds: "You have to follow your conscience, there are situations when you have to say yes or no; no chance to compromise."
Fr Peter put into simple and compelling words the conviction in my heart at the end of the road.
Refugees gamble literally everything in a bid to win life. They do so knowing that death is also on the cards. But matters of life and death should not depend on luck alone. Solidarity can do much to even out the odds. There are many stated reasons why we – governments, communities and individuals – are duty-bound to extend solidarity to refugees. I borrow a succinct line from Dostoevsky: "We are responsible to all for all".