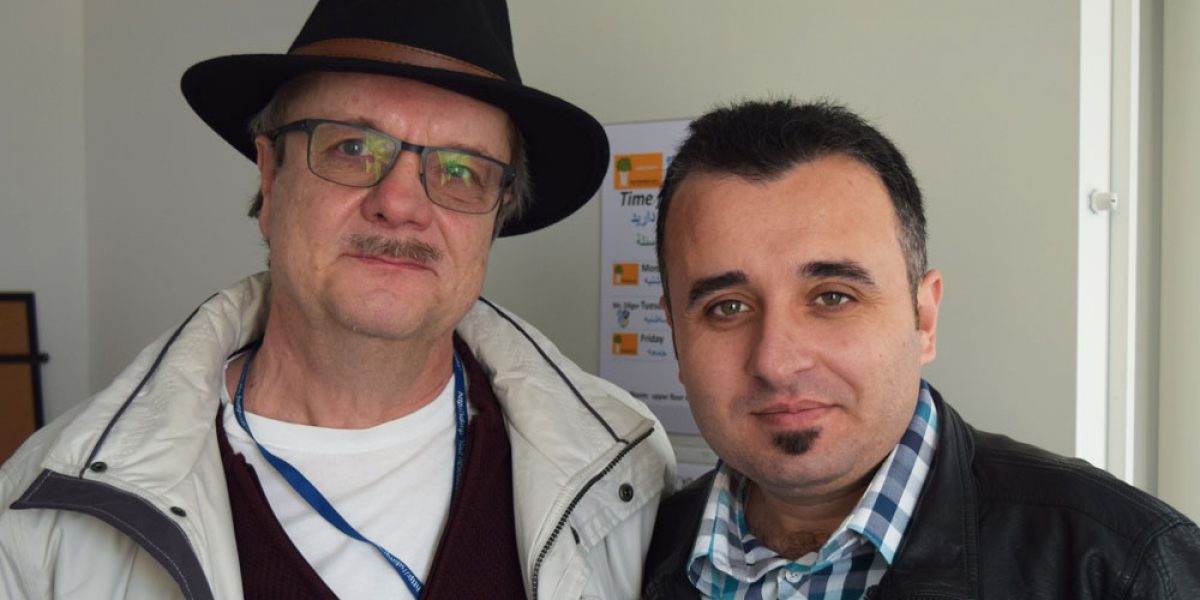 "Don't be afraid, you're safe, you're in Germany." These were the first words Sara heard when she stumbled out of the truck that had just taken her from Hungary to the promised land. Police caught Sara, her husband Mustafa, and their five-year-old son but were quick to offer reassurance.
Sara says the policeman's words were "the most comforting sentence I ever heard in my life". They marked the end of a journey that still comes back to plague her family in their nightmares, several months later.
The warm welcome the young couple received in Germany made the journey worthwhile, from the panic-stricken flight from the Syrian city of Aleppo, to the tough months in Turkey, to the journey across the sea to Greece, to the airless truck that ferried them through Austria.
Today Sara and Mustafa are beginning to feel they have made it. Not only have they been given all-important documents that guarantee asylum, they have been placed in a small shelter in a town outside Munich, called Kirchheim, where committed volunteers look after them. This is one place I visit when I go to Germany to meet refugees there.
"The people here are kind, they try to help us in everything we need. We're lucky to be here," says Sara, her face breaking into a smile. "We have a warm flatlet, my son will go to school, and we can start to build our future.
Hearing about the latest moves by the European Union (EU) to close the doors on refugees coming along the Balkan route to seek protection, just as they did, Sara and Mustafa must feel luckier than ever.
They know just how drearily difficult it is for refugees to survive from day to day in Turkey. And yet this is the 'safe' destination where the EU now plans – according to a confusing deal just reached between the bloc and Turkey – to send back all those arriving irregularly to the Greek islands, once their asylum claims have been processed by a fast-track procedure.
Mustafa and Sara spent five months in Istanbul and are adamant that it is practically impossible for refugee families to enjoy a decent standard of life there – at least this is what their experience has taught them.
"We stayed with my sister, who lives there. Istanbul is an expensive city, and if there is only one breadwinner in the family, you will never survive, to rent a flat, to pay electricity, gas, water, everything," says Sara. "Mustafa found a job making clothes in a factory. He worked for one month but his boss did not pay him."
Mustafa chips in here: "My employer told me 'you don't have anything, you can't complain, you don't have a document, you can't do anything'."
Apart from other pressing problems, in fact it is extremely difficult for refugees to work legally in Turkey. Sara is compelling in her determination to make me understand how hard Mustafa worked while in Turkey, and for how little.
"My husband found a job making chandeliers, he was working more than Turkish people. He was perfect in his work, and worked for more than 12 hours a day, for 300 euro a month."
Thanks to her sister's generosity, Sara and Mustafa saved every penny of his hard-won earnings, and borrowed some more, so that they could buy a place on a dinghy to reach Europe. They felt they had no other choice.
Returning home certainly wasn't an option. Sara shows me a photo on her smartphone, depicting a pile of rubble that was once a block of flats, including theirs. A neighbour sent them the photo a few weeks ago, with the message: "See what has happened to your home."
Sara and Mustafa left it as late as they could to leave Syria, because although they felt the impact of years of civil war, their primarily Kurdish neighbourhood, Sheikh Maqsoud in Aleppo, remained relatively safe.
In his work as a taxi driver, Mustafa dodged bullets, witnessed people dying and injured on the streets, and took many to hospital. At home, there was no electricity or water, but they managed somehow.
Until one day in early 2015, when the pre-dawn calm was shattered by "sounds coming from a distance, shouting and explosions". Soon later, a bomb hit their building. Sara recalls: "We were on the second and third floors and the fifth was hit. The stones and dust came from everywhere. In the afternoon, a helicopter came, and started firing. This was very real war, the first time I see it with my eyes."
Sara and her son crammed with other women and children into the van of a neighbour who vowed to try to take them somewhere safe. "Everyone was crying in that van, our hands pressed against our ears."
Mustafa had to find his own way out of what had become a battlefield overnight. Many daunting checkpoints later, "you don't even know who is who", both husband and wife managed to leave Aleppo.
In the village where they found refuge, all they could do was "sit under the trees", as Sara explained. There was no possibility to work, life was very expensive, and the house of relatives where they sought shelter was already full of others displaced by the war.
So Sara and Mustafa decided to head for Turkey. They crossed the border in an ambulance, posing as patients, and were actually taken to a hospital in the Turkish border town of Kilis.
That border crossing was nothing compared to the second one they attempted to reach Greece from Turkey. After two hours in a truck so crammed, "we could not even breathe", they reached the coast. The smuggler pooh-poohed their misgivings, prompted by the strong wind and waves, and they stepped into the water at 4am.
"We had to walk in the sea, the water coming up to our chest, to reach the boat. An hour after we started, a man said we must go back, because he could feel air coming from the dinghy. We didn't want to believe him, but soon afterwards, we felt the air, the boat was sinking, and water came inside. We threw everything we had into the water. I could hear my boy crying, we will die. The driver, a refugee who knew nothing, said, 'We can do nothing except pray to God.' We prayed so much."
They survived by swimming back to Turkey; some were rescued at sea. To their amazement, they were carted off to prison. A day later, they were released, but only after signing a paper pledging to leave Turkey within a week. "We were forced to go back to the sea and to pay again, another smuggler."
Mustafa's brother joined them for the first attempt but could not make the second. He needed a dozen stitches to close a gash on his leg that got caught in the engine propeller when he jumped from the sinking dinghy. He had to return to Syria.
Sara, Mustafa and their son made it the second time. They reached Greece and trudged through Macedonia, Serbia and Hungary. Awful memories but Sara does remember a ray of light. After running away from smugglers in Serbia, who locked them in a vehicle and forced them to pay for nothing, they wandered to a gas station. "I asked the owner where we can find a car to reach Belgrade. He was very kind. He said, 'do not be afraid, everything will be OK'. He took us for very little money."
Crossing from Serbia to Hungary took eight hours on foot. "My son was crying, he carried his backpack all the way. There was no sleep and no food. Just fatigue, fear. I still have a pain here – she presses her hand against her chest – from the fear inside."
In Hungary they climbed into a windowless and poorly ventilated truck that took them to Germany in five hours. They made this trip in August 2015, the same month 71 Syrian refugees suffocated to death in a refrigerator truck on the Vienna-Hungary highway.
No wonder Sara was elated to hear the German policeman's words when she spilled out of the truck. As the months pass, past horrors are slowly losing their grip, and the family is starting to look ahead to a peaceful future that is now feasibly theirs.
Sara hopes that once he has learned German, Mustafa will be able to find a job "with a just salary", unlike what he had in Turkey. And she wants to put her university degree in English literature to good use. As the conversation turns to favourite English classics, Sara mentions Robinson Crusoe, a novel about a man stranded on a desert island.
"When I read this book, I always ask myself, how could he survive for such a long time on this island? I would go crazy. But if you are alone in a jungle, and have nothing, you are forced to create anything to survive. The book talked about hope, perhaps we can have hope now."
– Danielle Vella, JRS Europe