Detention Under The Spotlight
JRS' call to end immigration detention.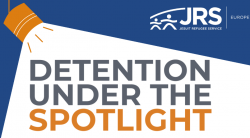 JRS currently visits people in immigration detention in 11 countries across Europe (Belgium, Germany, Luxembourg, Kosovo, Malta, North Macedonia, Portugal, Romania, Slovenia, Spain, United Kingdom). In three more countries (Croatia, Ireland, and Italy) JRS used to regularly visit detention in the past and strives to resume detention visits as soon as possible.
Through the eyes of our visitors, we witness detention's negative impact on detainees and the effects of flawed migration systems.
JRS advocates for the end of the use of detention in migration procedures. However, as long as immigration detention remains a reality, we work to ensure that detainees' rights are respected and detention conditions are humane. We also work to raise awareness among policy makers and the public about the reality of life in detention.
In "Detention under the spotlight", JRS Europe Europe works together with the JRS country offices to collect detention visitors' observations in a systematic way, compare them, look for trends, identify good practices and formulate recommendations for improvement. Detention under the Spotlight is also made possible thanks to the generous support of Oak Foundation.
Moreover, by telling the stories of some of the people we meet in detention, we want to expose the structural problems we see, in the hope to gain support in our call to end immigration detention.
In all our reports, stories are real. Names and other details were adapted for people's protection.
Stories Under The Spotlight