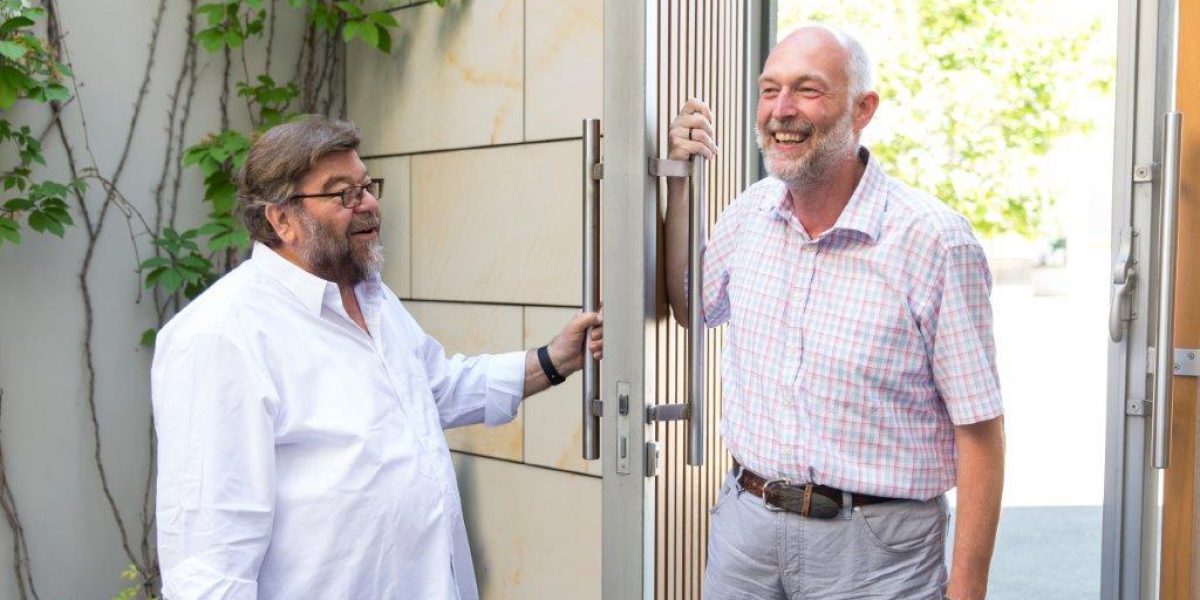 Brussels, 2 July 2018 – Fr. Claus Pfuff is the new Country Director of Jesuit Refugee Service in Germany. With a celebration on 11 June in Berlin, he succeeded Fr. Frido Pflüger as JRS Germany Director. Pfuff, originally from Weilheim (Bavaria), was a school chaplain at the Jesuit High School Canisius-Kolleg in Berlin. Frido Pflüger will head the JRS in Uganda.
In Germany, JRS provides pastoral care and legal assistance for detainees pending deportation and immigrants without residence permit. Besides the office in Berlin, staff members are working in accommodation centres in Munich and Essen. As his predecessor, Pfuff represents the Archdiocese of Berlin in the hardship commission for the Berlin State and in the Forum Deportation Monitoring at the Berlin-Brandenburg Airport.
Before entering the Society in 2009, as priest with therapeutic training, Pfuff helped to build up AIDS counselling in the diocese of Augsburg. As school chaplain at the Canisius-Kolleg, he got in contact with the situation of forcibly displaced people working with children of migrants and refugees in the "Welcome Classes".
At the handover ceremony, Dominik Bartsch, the representative of the United Nations High Commissioner for Refugees (UNHCR) in Germany, called for deportations to be carried out "in safety and dignity". He expressed his concern about the deportations which take place early in the morning because of the "surprise effect". Deportation should only be a last resort of the Immigration Controlling Policies.
Stefan Dybowski, responsible for religious institutes of the Archdiocese of Berlin, emphasized that Pflüger has always paid special attention to the individual destiny of people seeking help. The former JRS director and predecessor of Pflüger, Fr. Martin Stark, assured that in addition to the comprehensive educational work in schools and universities, the Jesuits will continue serving and accompanying refugees and migrants.