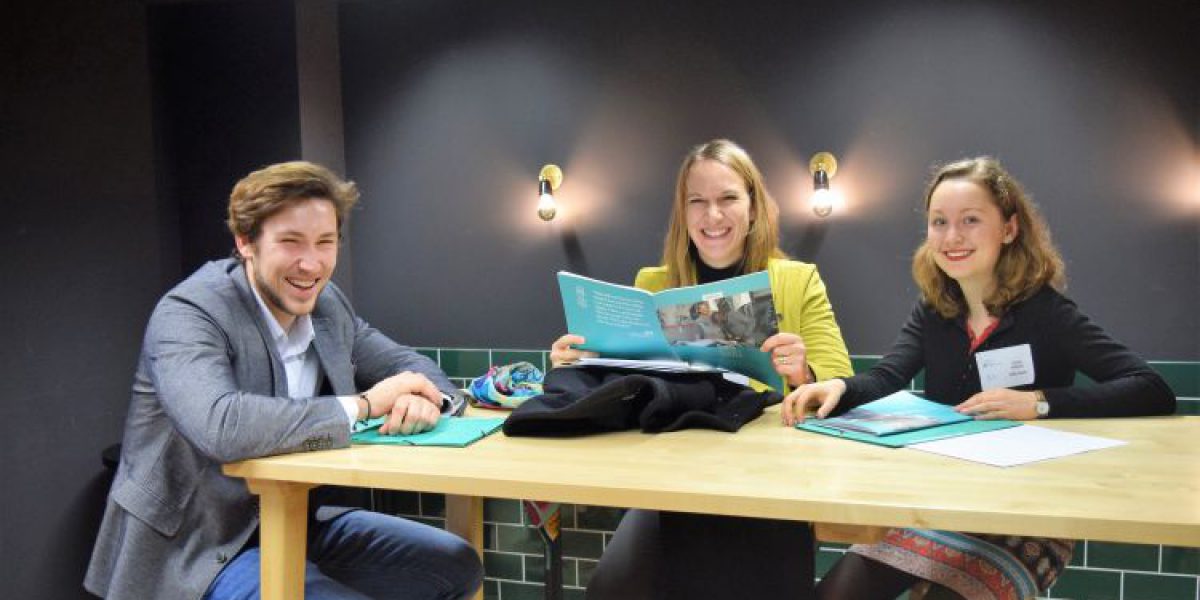 Brussels, 15 December 2017- JRS Europe and its partners from nine national offices held the conference, 'I Get You – Refugees and Citizens Together Against Racism and Xenophobia' on the 7th of December in Brussels. The conference provided the opportunity for attendees to know more about the research and main findings of I Get You and engage in dialogue through the perspectives shared during two panels.
Carola Jimenez Programmes Coordinator for JRS Europe, presented the research, explaining the implementation of the methodology and breaking down the 'Guidelines for Best Practices for Community Building Initiatives' that are outlined in the European final report. These guidelines are to be used by those interested in spreading the "I Get You spirit" or starting community building initiatives (CBIs) of their own.
The first panel moderated by Tamim Nashed, Policy Officer for Refugee Inclusion at ECRE, explored new synergies that have been created between local citizens and refugees through small-scale initiatives across Europe. Panellists reflected together on how citizens have reacted more quickly and have been more capable of providing services than authorities in certain cases. They discussed how this has lead newly arrived refugees to feel more welcomed into the fabric of local communities.
Describing his experience when he first arrived to Romania, panellist Ali Saeed pointed out, "Being a refugee is not a profession. When I arrived to Romania, I did not feel as a refugee, just as a normal person." Ali, originally from Syria, collaborates with AIDRom – an initiative in Timisoara – were he cultivates his talents for music and theatre with the support of locals.
The ability of CBIs to creatively fill gaps left by authorities was further commented on by panellist Udo Enwereuzor, Senior Adviser on Migration, Minorities and Rights of Citizenship at COSPE, who described how in small communities "people are welcomed through encounter and interaction; these are very positive strategies to receive people." Speaking in reference to the momentum of young Europeans, like fellow panellist Louisa Singa from the student association Welt_Raum in Germany, Enwereuzor said, "We do have young people – willing, ready and capable – going out there and doing something in support of people seeking protection in Europe. To me, this is absolutely very encouraging."
The second panel gathered the voices of experts spanning civil society, academia, national and supranational institutions– with Chiara Peri from JRS Italy, Chiara Marchetti from the University of Milan, Giulia Andreoli from the Protection System for Asylum Seekers and Refugees in Italy (SPRAR)–and Nuria Diez Guardia from DG Migration and Home Affairs of the European Commission.
Chiara Marchetti identified there are "four indispensable actors for integration: institutions, organizations, citizens and refugees" and highlighted that all are important and unique to provide services and facilitate encounters based on reciprocity. From her experience carrying out the research in Italy, Chiara Peri noted, "Translation has become the new language of Europe," which acknowledges the challenges of conveying messages, conducting interviews and writing reports in the nine different languages of the project but also the cultural robustness of I Get You.
Claudia Bonamini, Policy and Advocacy Officer of JRS Europe, wrapped-up the conference and concluded that I Get You can be summed in three key words: encounter, local and small-scale. Bonamini stressed the policy recommendations found in the report, which are addressed to European Union institutions as well as national, regional and local authorities, saying, "Governments should take responsibility to provide services and leverage experiences that have previously worked. If they do, grassroots initiatives will be able to do what they are good at: create community for everyone."
"Being a refugee is not a profession. When I arrived to Romania, I did not feel as a refugee, just as a normal person," said panellist Ali Saeed.