"Before the war, we lived a wonderful life. Then it all collapsed. The old life was no more", Elena's story
16 October 2023
|

JRS Europe
Elena and her husband, along with their three children, built their home and family in the city of Dnipro. "Before the war, we lived a wonderful life," Elena recalls. "The children went to kindergarten, my husband worked and studied, I took care of the house and children, and waited for the moment when I could go to work to finish my studies. We made plans: we really wanted to buy our own housing, finish our studies, develop circles for children, sports."
They considered for a very long time whether to leave their home or stay, hoping that the war would come to an end within just a few days. "But when the war began, it all collapsed. The old life was no more."
Facing uncertainty and fearing for the safety of their children, abruptly one morning, Elena and her husband made the difficult decision to leave Ukraine. In one day they collected all of their belongings and took everything to a garage. The next day, at 6 a.m., they left for Hungary.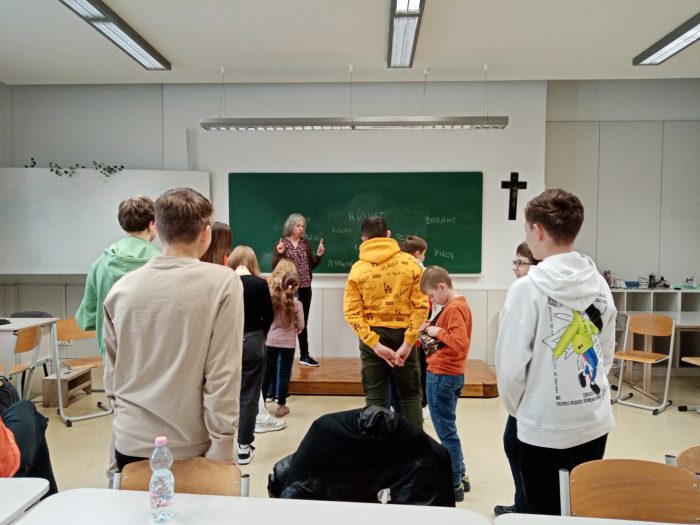 After a challenging four-day journey they arrived at the Hungarian border, where they waited for seven hours until they made it into Hungarian territory. Upon arrival, they faced many obstacles in finding housing but eventually settled in Budapest and received assistance from JRS.
"JRS' support is very important to us, as it is not easy to settle down in a new country even in a year. Despite the fact that we have a man in the family, it seems to everyone around us that it is very easy for us, only providing for three children is not easy. I want them to fully develop. Of course, support is important to us, because we also want to be useful, work, and develop. JRS helps us overcome the difficulties associated with adaptation, material and emotional."
"We really like Hungary. There are unusually kind, sympathetic, and well-mannered people here. We don't want to go any further, and we don't plan to."
JRS is working together with the Xavier Network, Concordia Moldova, the Society of Jesus in Europe, local civil society, and NGOs in a coordinated Jesuit response. Together we help thousands of people like Elena and her family. You can read more about The One Proposal: the coordinated Jesuit response to support the Ukraine Crisis here.