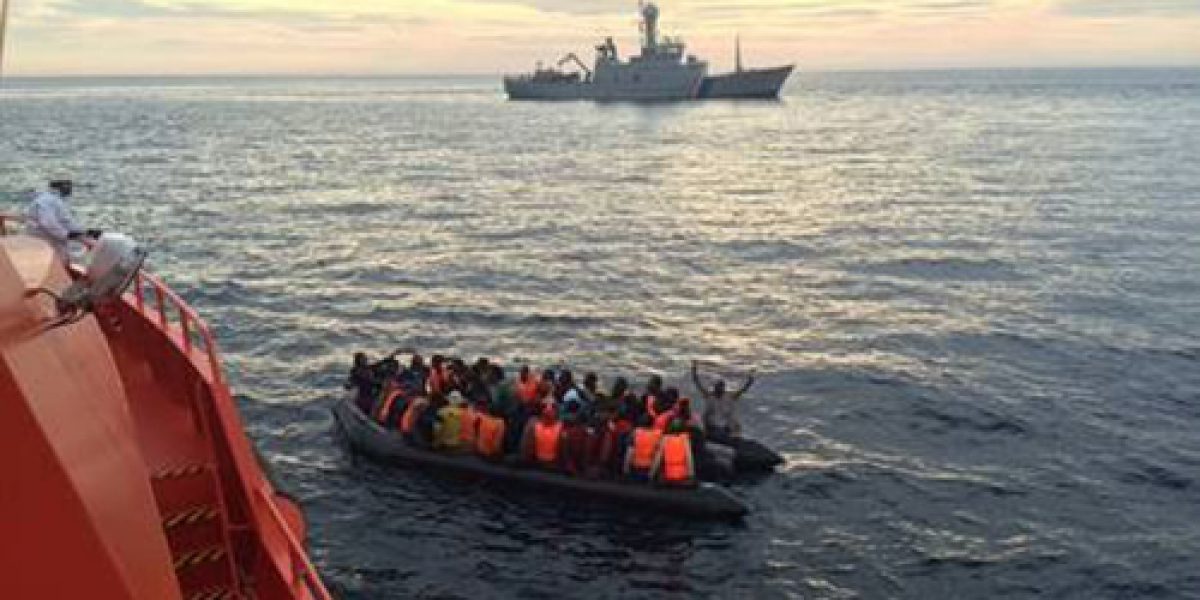 In this latest report from our human rights observatory on Europe's external borders, our JRS partner in Spain, Servicio Jesuita a Migrantes (SJM), report serious violations of international law at the Morocco-Spain borders.
On Europe's side of the Mediterranean, migration from Africa and the Middle East is a question of numbers.
The number of people forced to risk their lives on the Mediterranean has decreased since 2016, but unfortunately it remains one of the few ways to seek protection in Europe and many people continue to take the risk. According to UNHCR data to 12 September 2017, over 129,002 so far have arrived by sea during this year; and 2,428 deaths have been recorded.
Spain has received relatively few of these, at least when compared to Greece and Italy, but since May the number of arrivals to Spain increased. According to UNHCR, 15,308 individuals had arrived to Spain through the southern border between 1 January and 31 August: 10,886 by sea and 4,422 by land. The numbers are higher than in 2016 as a whole: 8,162 by sea and 5,932 by land. The majority get into the Peninsula by sea (9,760), others arrive to the Spanish enclaves, Ceuta and Melilla, from the Moroccan border (2,986 to Melilla and 1,790 to Ceuta), many fewer forced migrants make it to the Balearic Islands (639) or to the Canary Islands (133) .
The arrival to Ceuta and Melilla is just the last stop in a long – and dangerous – journey that started from countries like Guinea, Gambia, Ivory Coast and Nigeria. Human rights organisations have documented a range of abuses that migrants have experienced in Spain's two enclaves, from automatic detention and blockages to applying for refugee protection; to denying unaccompanied minors and other children their fundamental rights.
This is the view from Europe. On North Africa's side of the Mediterranean, migration is not a question of numbers, but one of life and death – told below in two stories.
7 women drown near Melilla – why weren't they rescued?
On 31 August, some of these migrants paid with their life during a tragic boat incident at sea near the cliffs of Aguadú, bordering Morocco in the north of Melilla.
A boat with 40-45 people left from Nador, a Moroccan coastal city approximately 15km south of Melilla. It was quickly intercepted by a ship from Spain's Civil Guard just 300 metres from the enclave's coast.
According to migrant testimony obtained by SJM in Morocco, instead of rescuing the boat's passengers, the Civil Guard ship stayed in place until a ship from the Royal Moroccan Navy arrived and towed it to Morocco's shore.
Several migrants jumped ship in an effort to swim to Melilla's coast. Fortunately, they were rescued by the Spanish Civil Guard. The others were less lucky: while being towed by the Moroccan Navy ship, the rickety boat overturned and seven women drowned. The others were rescued and were summarily deported to an area in southern Morocco.
For Fr. Josep Buades Fuster SJ, in charge of southern border operations at SJM, too many questions are left unanswered.
"Did the Spanish Civil Guard ship see the boat overturn, and if so, why didn't they assist in the rescue?", he asks. "And why didn't the government authorities in Melilla acknowledge the migrant deaths in its public communiqué about the incident?"
Spanish media reports on the incident can be read here and here.
Blocking access to the asylum procedure
Younes is a Moroccan citizen who became attracted to Evangelical Christianity in 2016. He watched videos on YouTube, and even joined a Moroccan Christian association. Eventually he decided to convert.
His decision to become a Christian did not go unnoticed among others in his community. During Ramadan, he became a target of severe harassment. The situation became so unbearable that he fled to a country where he could develop his budding Christianity in safety and freedom. He chose Spain.
Spain, however, was not interested in welcoming Younes. After arriving in Melilla, he tried to apply for asylum with the national authorities but was told that he could not because he had come from Nador. He lived on the street for several days, trying in vain to apply for asylum, which he eventually did with the help of SJM.
"Younes' case is not exceptional," says Buades of SJM. "We have encountered many people who were barred by the Spanish authorities from seeking asylum not because their case wasn't worthy of asylum, but because they had the wrong nationality."
On the Spanish mainland, this policy affects Venezuelans and Ukrainians; in Melilla, its Moroccans, Algerians and other sub-Saharan Africans who come with genuine reasons for asylum: abuse because of their sexual orientation, conversion from Islam to another religion, direct political persecution.
Spain arbitrarily refuses to accept asylum applications from many of these people because they do not want to create a 'pull effect' to Melilla or the mainland. This practice is a clear violation of the fundamental right to ask for asylum. The consequences are disastrous for migrants: not having access to protection disqualifies migrants from access to basic needs such as shelter and medical care.
"It is a policy that leaves people in utter vulnerability," concludes Buades.