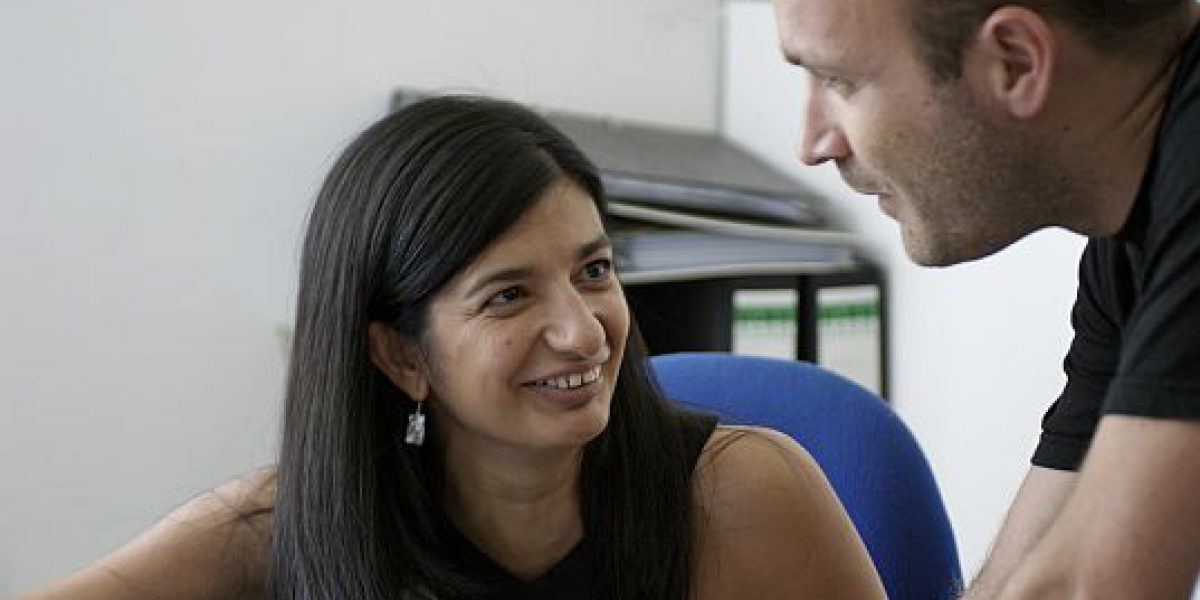 At the first ever Voices of Faith storytelling event held in the Vatican, on 8 March 2014, 11 remarkable women shared their personal stories demonstrating how their unwavering Christian faith has positively impacted their life, greater society and the world.
Katrine Camilleri, director of JRS Malta, was among those who shared their testimony. Watch Katrine's speech here. Below is a transcript of her speech.
On October 11, 2013 a fishing boat carrying over 400, men, women and children sank some 100 kilometres off the coast of Lampedusa.
The people on board were refugees from Syria. They had initially sought refuge in Libya but were pushed by the increasing violence and insecurity there to seek a safer place for themselves and for their children. Entire families boarded that fishing boat to make the journey of hope – according to some estimates there were over a 100, possibly up to 150, children on board.
As they left the coast of Libya their boat was shot at by what looked like a military or coastguard vessel. Is not totally clear who it was, or even why they shot at this fishing boat carrying refugees. What is certain is that the bullets pierced the hull of the boat, injuring some of those on board and causing irreparable damage to the vessel, which immediately started taking in water.
The passengers tried to bail out the water as the boat continued on its journey, but by the time the boat was some 100km from Lampedusa it became clear that they were in deep trouble. The boat had taken in too much water – the entire lower deck was submerged, the engine had failed and they were at risk of sinking.
Seeing that they were so close to Lampedusa, they made a distress call to Italian coastguard, only to be told that they should call the Maltese coastguard because they are the ones responsible. So, just after midday, they called the Maltese coastguard who assured them, repeatedly, that help was on its way.
As they waited the people on the boat were getting increasingly desperate, because it was clear that the boat was going down – it was only a question of time. They were trapped on that boat, in the middle of the sea, unable to do anything to save themselves or their children. By their own accounts when they spoke to the authorities they were crying and begging for help. "Please, we are Syrians. We are in a dangerous situation… the boat is going to go down…we are going to die. We have more than a hundred children. Please help us."
The boat capsized and sank at around 5:10pm, taking with it hundreds of people – it is estimated that some 260 people drowned, 60 to 100 of them are believed to be children. Only 26 bodies were recovered. 212 people survived the tragedy; some were brought to Malta and others were taken to Lampedusa and Sicily.
The days that followed their arrival in Malta were complete chaos and confusion. People were searching for family members, desperately hoping that they were among the survivors in Sicily and Lampedusa. A few were, most were not. Many people had to accept that their loved ones, sometimes all or most of their loved ones – their wife, their husband, their children, their siblings, their parents – were no more.
In the days that followed the survivors tried to make sense of what had happened. They met with government officials, with NGOs, with journalists… with anyone who would listen to them really… to try to understand what went so horribly wrong.
At one meeting a man who lost two sons in the tragedy was explaining the sequence of events. To him it seemed that their desperate pleas for help had fallen on deaf ears. If only help had arrived faster his children would have survived.
Then at one point he said, 'Of course, we are not blaming you for the death of our children. We are not stupid, we know – we killed our children.'
His words shocked me, not least because I couldn't help thinking: no, you didn't – we did. Your children are dead because of the walls we put in place to protect ourselves. Asylum seekers make this journey only because it's impossible for them to enter Europe – a safe place where they can seek protection – in any other way.
Most of the people on board that boat had passports. They were professionals; established, well-connected people who normally would probably be able to obtain a visa. Many had family in Europe willing to support them. Yet they had tried for weeks, in some cases for months, to get a visa to come to Europe – in vain. No one was giving visas to Syrians.
The truth is, once you become a refugee, once it is clear you need protection, it is almost impossible to get a visa to be able to enter another country to seek protection. For many, the only way they can do so is by attempting to scale the walls, putting their life, and that of their children, at risk. So every year thousands of people perish attempting to reach a place of safety.
When asylum seekers reach Europe, their problems are not over. There are other walls they have to contend with, before they are able to obtain protection. Migrants rescued from vessels in distress and brought to Malta are usually placed in detention until their asylum applications are processed, which can take months. Those who obtain protection are released; those whose application is rejected remain in detention for 18 months. The only exceptions to this rule are migrants in a particularly vulnerable situation, such as: children, whether accompanied or unaccompanied; pregnant women; people with disability; and persons with serious physical or psychological problems.
It is difficult for one who was never detained to understand the hardship detention causes. Detainees we meet talk of being profoundly changed by their experience. One detainee put it like this: "this detention is so hard… you don't recognise the person you have become". Interviews conducted by JRS Europe with 600 detainees in 23 EU Member States found that long-term detention leads to significant deterioration in mental and physical health.
In the words of Bakarat, a detainee from Ghana, detention is "the dark side of the world… the starvation of the soul".
In addition to the hardship it causes, in some cases detention violates basic human rights standards. Both our (Malta's) law and policy on detention and the conditions in which migrants are detained have been repeatedly found to be in breach of human rights law.
However, we are assured that keeping people behind the walls of detention centres is necessary to protect us – that it is "the only way of safeguarding national security".
Following release from detention, although the physical walls are gone, there are other walls to contend with. Walls preventing migrants from being reunited with their families and blocking access to rights and basic services.
My job – advocating for individual asylum seekers and for improved treatment for migrants and asylum seekers in Malta – is essentially about working to bring down these walls or at least to lessen their impact on individuals' lives. What makes this work particularly hard is the fact that it is not about fighting an external enemy – an anonymous, disembodied system of border control that operates outside of us.
We built those walls and we keep them there. They are a result of our fears, our selfishness, our indifference; of our desire to protect what we have even if it is at the expense of someone else. They are a reflection of the walls in our heads and in our hearts. I say 'we' because I acknowledge that I too am part of the society that built those walls to keep out those who need protection.
Faced with the enormity of the task, once the initial optimism wears off, it is easy to feel disheartened and helpless. When years go by, when you have seen so many people suffering and nothing seems to change, it is very tempting to just lower expectations and accept that nothing will change, to succumb to what Br Bill Yoemans SJ described as "rationalised discouragement".
However, he says, we are invited to go "beyond the slough of despond, to go into and through to a renewed and refined and more realistic hope. It is the road that leads to the realisation that the best possible service we can give the refugees is to be with them, to stick it out with them, to hope against hope with them."
This hope is more realistic because it is grounded in the knowledge that my efforts, small and insignificant as they are, are part of something much bigger. They are part of an enterprise that spans history; one that started way before me and will continue long after I am gone: in the words of the reflection attributed to Oscar Romero, "the magnificent enterprise that is God's work".
God's vision for humanity is completely different from the world we created in our own image and likeness. Isaiah 25 talks of a "banquet for all peoples", where God himself wipes away the tears from every face; a world where the "high walls" of the "impregnable fortress" are no more.
I live and work in the hope that my efforts will contribute in some way, which I must admit I do not fully comprehend, towards this vision. And while I remain acutely conscious of just how limited my efforts are I also know that God is able to do "more than we could ask or imagine".
For me, this knowledge brings great consolation, as does the fact that I do not walk alone – I walk and work with others in the JRS network and beyond who share the same hope, not least refugees the world over, who in spite of the adversity they face continue to hope that they will be received, that they will be able to find protection and live with dignity.
In the years I have been doing this job, the faith of the refugees I encountered along the way has been great source of hope for me. Over time I collected so many testimonies, words, anecdotes, which keep me going when my own faith falters and my hope starts to die. I would like to leave you with one of the latest additions to my collection.
Just days ago I visited a JRS project for Chin refugees in Delhi. The meeting started with a prayer and a song. The song was the unofficial anthem of the American Civil Rights Movement: 'We shall overcome'. For me, it was incredibly moving to hear these refugees, gathered in a small room in the poor area of the city where they live, affirming their belief that, in spite of the huge difficulties they are facing and the walls they are up against: "We shall overcome someday". And when I heard them I thought: if you believe, how can I not stand with you and say that, yes, by the grace of God, together we shall overcome.