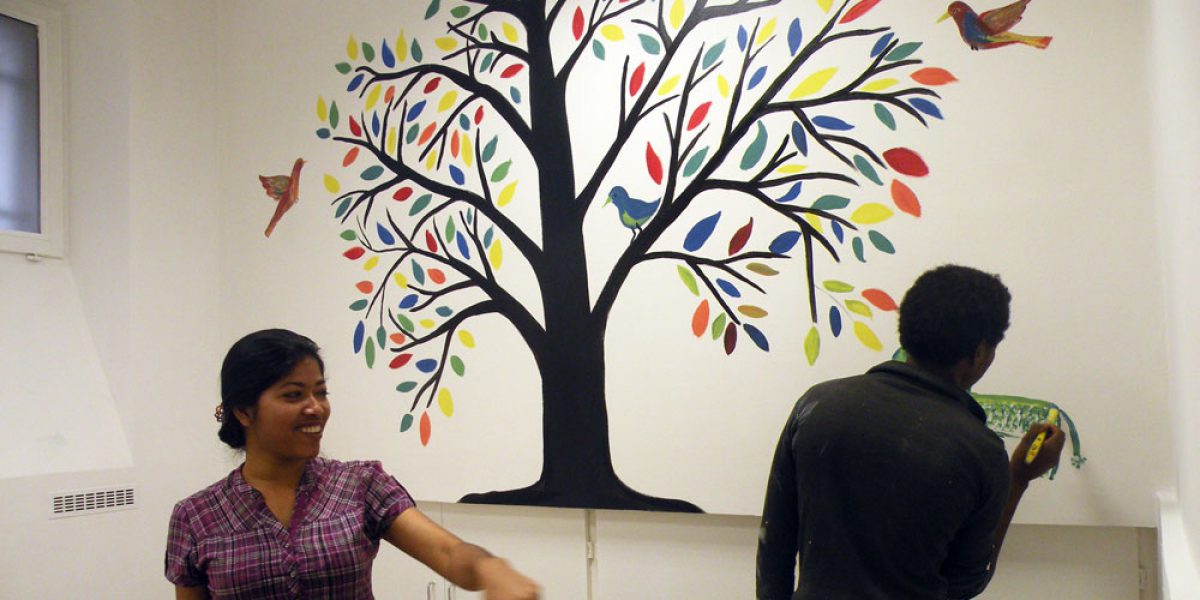 Paris, 24 February 2015 – Welcome Project co-ordinator for JRS France, Marcela Villalobos Cid, writes about a new hospitality project focused on youth in Paris. Twice per month, in the chaplaincy of the Institute of Political Studies in Paris, a youth group get together to cook, to discuss and to share. This group is called 'Welcome Jeunes' (Youth Welcome), a new project of the Jesuit Refugee Service France.
Youth Welcome started as a desire. There was already the Welcome Project where French families volunteer to host asylum seekers in their homes for various lengths of time. It works so well that we asked ourselves: how can we create this hospitality experience between young French adults (students, workers) and young asylum seekers and refugees?
At the beginning there was a partnership with chaplaincies, parishes and Ignatian youth groups. The first activities were football games every Saturday morning and a new year's solidarity party. Then, a young woman arrived to do her internship at Youth Welcome. Lucile Froitier, a philosophy student, began to facilitate some workshops and organised some collective actions. For her, it's very important to promote and recognise cultural rights.
According to Lucile, cultural rights involve "the freedom to be, beyond our first culture, to share and to receive. The participation of everybody in a cultural life is one of the first factors of freedom and social inclusion."
How do we live these cultural rights in Youth Welcome? First of all, we organise awareness raising evenings. These evenings are thought out, prepared and run by asylum seekers and refugees. Usually, the sessions begin with a warm welcome and a theme chosen by the participants.
Currently, the theme is 'tell me about your country'. This action tries to raise consciousness in civil society and enable a deeper understanding of the countries of asylum seekers and refugees beyond prejudices and folklore. It is very important to discover their countries through their eyes, to allow ourselves to be impregnated by their culture, music, richness, traditions and roots.
During these activities, asylum seekers and refugees meet many different people in a simple way. The goal is to enable them to express themselves, to gain self-confidence and to share with French people their talents, gifts and capacities. The meetings help people to break solitude, to feel useful, to develop a feeling of belonging, to be proud and to have a room as a citizen.
Youth Welcome is a real partnership with asylum seekers and refugees. All the actions are thought out by them and completed with them. That's one of the main driving forces of JRS France: if we build these spaces of collective action we promote a dynamic of empowerment, encounter and mutual collaboration. As Pope Francis reminds us: "moving away from attitudes of defensiveness and fear, indifference and marginalisation … towards attitudes based on a culture of encounter."
These encounters will help us to build a society in which solidarity, justice, fraternity and sorority will be a reality.