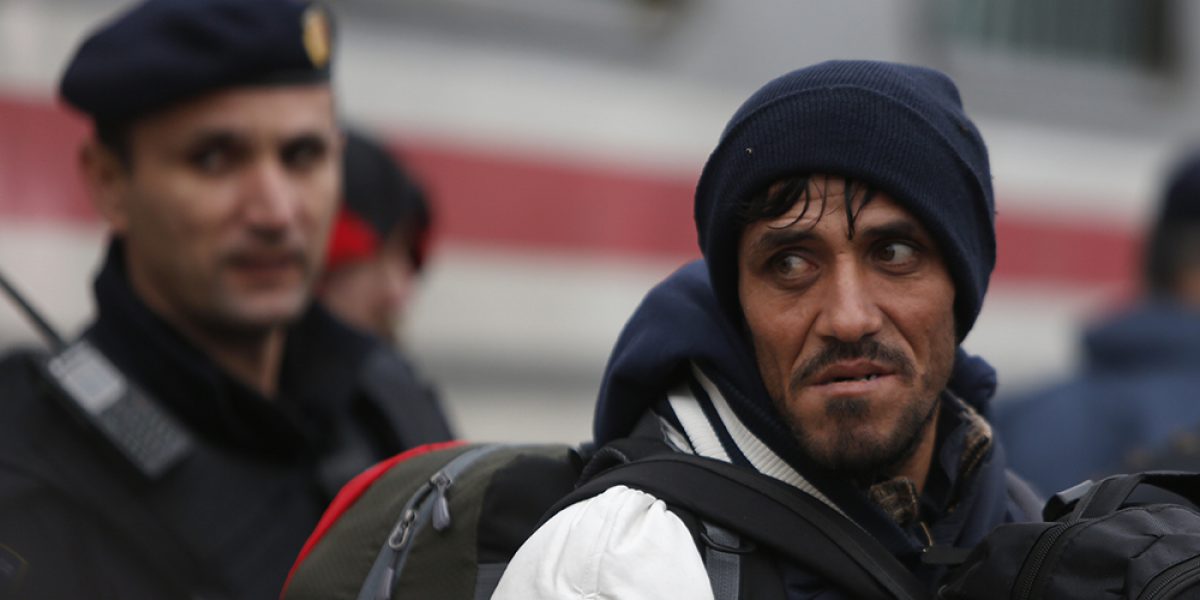 It was a social worker in Jesuit Refugee Service in Serbia who first heard Bahram's story. Bahram is a young migrant from Afghanistan who made a long journey in search of a safe little corner in Europe. He and his friend thought that they had found it by entering Croatia, but unfortunately, their feeling of relief and peace did not last for a long time.
After crossing the Serbian border into Croatia they went straight to a reception centre for asylum seekers in Zagreb, and announced their wish to apply for asylum. The policeman on duty instructed them to go to a police station nearby that was authorised to take asylum applications, writing the address on a piece of paper.
When they got to the police station, the officer gave them a form in Croatian where they were told to write their personal information and sign their names at the bottom. No one told them what they were signing and instead of being taken to the Reception Centre, they found themselves next to the railroad that was leading back to Serbia.
Kristina Bednjanec, a legal officer in JRS says: "We are concerned that – if Bahram's account is true – he was misled by the Croatian police on duty who should have otherwise provided him with information and directed him to the appropriate procedures. Unfortunately, similar situations have happened to other migrants."
A pattern of pushbacks
Bahram's case is not an isolated incident. Throughout 2016, numerous migrants have come forward to journalists and human rights organisations with with stories of allegedly being misled by the Croatian authorities and pushed back to Serbia.
In April 2017, 262 persons told UNHCR in Serbia that they were blocked from entering Croatia and denied the chance to ask for asylum there. In that same month, 246 people were pushed back to Serbia. In just one week in May, UNHCR in Serbia reports 137 cases of groups being expelled from Croatia to Serbia. A large number of such cases became known to JRS and others in the Serbian town of Sid, located just 7km from the Croatian border. These reports are particularly worrying as access to the asylum procedure is a fundamental right under EU law and push-backs practices are in clear violation of it.
Taking action
JRS Croatia has worked assiduously to develop relations with the Croatian authorities to be able to access reception and detention centres to provide much-needed services to migrants. They have also made the authorities aware of possible cases of human rights abuses at the border during pushbacks to the Serbian border.
Bednjanec says: "We have reported cases of potential abuse to the authorities, including the national ombudsman and UNHCR in Croatia as well, which led to a lot of fruitful meetings."
To complement this work, JRS Croatia was informing the media to raise public awareness and urge the national authorities to investigate and improve practices at the border.
"A lot of work has been done by JRS and many other organisations which has gotten the attention of the Croatian authorities. Now, we are waiting for the authorities to conduct an investigation and take necessary actions."
Tvrtko Barun, the director of JRS Southeast Europe admits that Croatia has struggled to handle the recent influx of migrants. He points out that even the wealthiest EU countries have had a difficult time of welcoming migrants and asylum seekers to their borders.
"This challenge sits not only with Croatia, but with all of Europe," he says. "All EU countries need to do their fair share of welcoming migrants and refugees in as humane and dignified manner as possible."