Zhukov family interview
28 November 2023
|

JRS Europe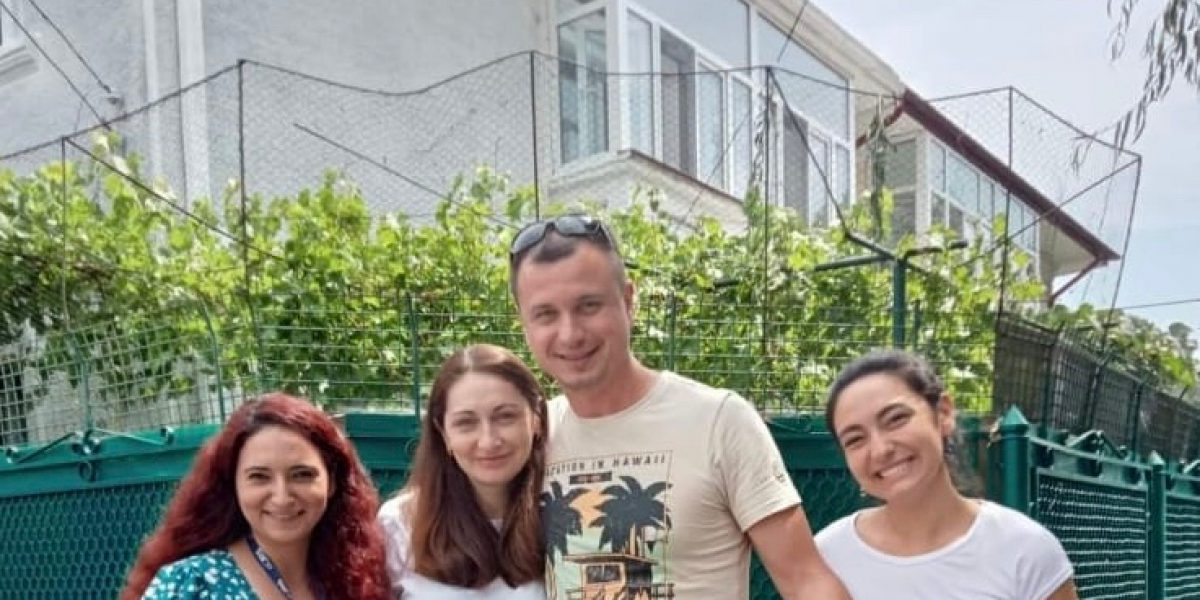 We chose to come to Romania because we thought it was the right country for us, at the time of arrival, my wife was 4 months pregnant, and the pregnancy was with a high risk of premature birth. We left Ukraine on March 5, it was difficult to leave the country, because at that time only men who had 3 children could leave the country, and my wife was pregnant with our 3rd child, it took a few days before we could leave, we went to a smaller border point and explained our situation and especially my wife's high-risk pregnancy, the fact that she had to urgently go to a specialized hospital, we presented medical documents certifying her condition to the border, they allowed us to pass only after my wife showed them her belly (our chance was that her pregnancy was advanced and visible… otherwise I don't know if we would have had our son Christian today… God has been good to us).
We were aware that it would be difficult to find accommodation for our family of 4 members. We decided to write on a Facebook group and ask for support, an Iranian family answered us, who had been refugees in Romania (now they are Romanian citizens). They told us that they know how it is to be a refugee and that we can live with them as much as we want. We lived with them for a month, in their house, from a city near Bucharest. Then my wife's condition worsened and we had to move to Bucharest because the pregnancy was in danger. We didn't know anyone in Bucharest, so we turned to our Iranian friend who helped us find a Russian-speaking doctor and an apartment to live in. This family helped our family in a way that we do not know if we can ever repay.
When we arrived in Romania, my wife felt strange, she was shy, it took a while to adapt. I think it helped us that we went through a similar move 8 years ago, we moved from Donetsk to Odessa, the difference is that here we don't speak the language.
Everything is good in Romania, the standard of living is good, and so is the educational system, for us it was amazing that we benefited from so much support, we were not used to this, especially since in Ukraine we did not receive such support when we moved from Donetsk to Odessa.
It was difficult for us until we understood the educational system and the medical system, having three children this was the first interest to us. We feel safe in Bucharest, our son walks to school alone. The apartment is suitable for our needs, it is located near the school and the kindergarten and this is a great help for us.
Has the apartment you live in become your home?
Where my family is, there is my home, as long as I have them, I have everything.
What are your plans?
We still do not know if we will stay in Romania, what we know is that we will not be able to return to Ukraine immediately after the end of the war, because we believe that the reconstruction of Ukraine will take some time. That's why we understood that life teaches us to make short-term plans, now I want to find a good job, to be able to support my family as well as possible and to get up to date with the vaccination plan for all three of our children.
JRS was a great support for us, support that we did not expect. You have many activities, we went to some of them, we would have liked to get to more, but having three children, it was more difficult.
I remember the first meeting with the JRS staff, I came with my daughter Kira and you had a store where we could choose what we needed, I told about the fact that my wife is hospitalized and was about to give birth, I was amazed to receive many things that we needed for our newborn son, but also other donations for the whole family. When we come to JRS we feel that we come to visit friends, this was why the day that my wife and our newborn son were released from the hospital we came to visit our friends from JRS, who helped us prepare his arriving.
Then we benefited from other services that supported us a lot during our stay here.
We thank you very much!
JRS is working together with the Xavier Network, Concordia Moldova, the Society of Jesus in Europe, local civil society, and NGOs in a coordinated Jesuit response. Together we help thousands of people like Veronika. You can read more about The One Proposal: the coordinated Jesuit response to support the Ukraine Crisis here.