"We were a young family from Nikopol waiting for the birth of our daughter and saving for our future family life. Then war struck", Olena's story
16 October 2023
|

JRS Europe
"We, a young family from Nikopol, me and my pregnant wife, were waiting for the birth of our daughter and were trying to work and save for our family and future life. I worked as a taxi driver, and my wife worked as a seller in a store until the eighth month of pregnancy."
The day they were forced to flee their home is etched in their memories as the darkest chapter of their lives. On that fateful day, they were overwhelmed by missile attacks that began in the dead of night and persisted into the afternoon. Seeking refuge in a bomb shelter, tragedy struck as a rocket struck their house, leaving them with only the possessions they had hastily packed for evacuation. In an instant, everything they had strived to build, their life's savings, lay in ashes.
Their journey led them through countless hardships. Upon arriving in a new city, they exhausted their meagre resources to secure a temporary apartment, as the impending birth of their child left them with no alternative. However, job opportunities were scarce in this unfamiliar city, and after their daughter's birth, they found themselves compelled to relocate once more, this time to Lviv.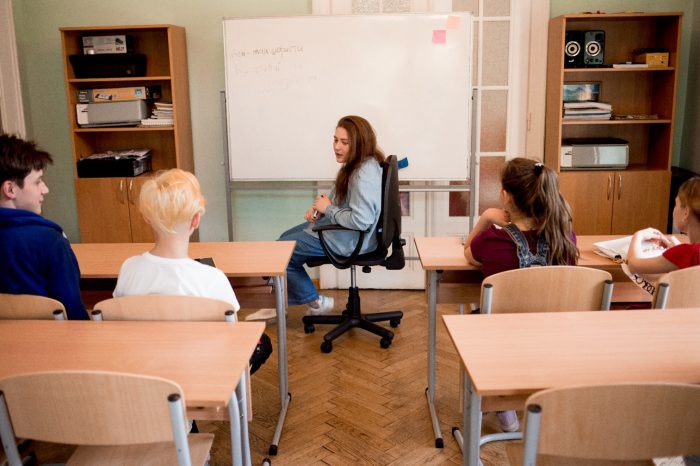 Upon their arrival in Lviv, they turned to the internet in search of assistance with housing. It was through this search that they stumbled upon JRS. A brief conversation led to a visit from social worker Anna, who accompanied them to the JRS office. There, they were offered solace in the form of coffee and essential supplies for their newborn, ensuring their comfort during these trying times.
JRS has left an indelible mark on their lives, showering them with positivity in the midst of adversity. Not only providing them with baby essentials, including diapers and baby food, but also securing housing, and ensuring their well-being in a peaceful and comfortable environment.
They say: "For our family, the support of JRS means confidence in the future, that we can count on help for the child and also for us, we know that we can live peacefully and not think that tomorrow we will be thrown out into the street."
Their current place of residence has filled them with awe; it's a sprawling house boasting exceptional living conditions. The residents are remarkably kind and welcoming, making it a pleasant place to call home. Here, they are blessed with three daily meals, and the town offers a serene and child-friendly environment, perfect for leisurely strolls.
The people in the community are very friendly and hardworking, with each member contributing to daily responsibilities. On weekends, they gather to watch movies and engage in conversation. Additionally, there is a spacious playroom for the children to explore and grow, along with ample outdoor space for their enjoyment.
Their foremost hope is for the war to conclude swiftly, granting them the opportunity to live in peace and happiness. They fervently wish that their children can walk the streets without fear, as they earnestly believe that the terrors of war should never encroach upon the lives of innocent children and those who have just begun to experience the joys of peace.
They remain unwavering in their commitment to Ukraine, resolute in their belief that they can rebuild what they once had: "We will definitely stay in Ukraine and hope that we will be able to return to what we had and live in peace and calmness."
JRS is working together with the Xavier Network, Concordia Moldova, the Society of Jesus in Europe, local civil society, and NGOs in a coordinated Jesuit response. Together we help thousands of people like Olena. You can read more about The One Proposal: the coordinated Jesuit response to support the Ukraine Crisis here.