The past June 6 SJM Spain presented in the Spanish Senate their CIE Report 2021: "Hostile Territory: different kinds of hostility in detention centres", where they analyse the situations and conditions of these centres during the last year. The event was moderated by Carmen de la Fuente, Coordinator of SJM, Ana Bosch from Pueblos Unidos and author of the report, Elena Davara as a volunteer of the Madrid detention centre visiting team, Josetxo Ordóñez from Migra Studium and author of the report, and Josep Buades (Director of the Asociation Claver-SJM) as lead author of the report.
We are in a year marked by strict protocols due to covid-19 that have provoked difficult isolations to the people in these centres with grave consequences to their mental health, in addition to deficient medical attention. This lack of optimal medical resources is noticeable not only with regards to the pandemic but also in the null privacy of the patients or the shortage of medical resources to be able to care for people and, in addition, an inexistence of attention to mental health, aggravated in most cases by the confinement and bad conditions.
In this report, we focus our attention and denounce three kinds of hostility in detention centres in 2021:
Obstacles to the reporting and investigation of police aggressions.
Deficiencies in medical-health care.
Obstacles to visits by social organizations.
All of these hostilities lead to unsustainable situations for the migrants interned in these centres, whose rights are violated each day they spent locked up in unsanitary and inhumane conditions.
In addition, many of these people interned in the detention centres are adolescents who, without determining their age because the documentation of their place of origin is not accredited, prevailing before the medical tests (which entail a long period of time locked in the detention centre with uncertainty and worsening their physical and mental situation) violates the right to equality and non-discrimination before the law based on the interests of the minor.
Social organizations are primarily concerned first and foremost with the closure of the detention centres. Given the current improvability of their disappearance, as demonstrated by the construction of a new centre in Algeciras, we find ourselves in a constant struggle to improve the conditions of these centres and offer human accompaniment to the interned people, although subject to moments of possible restrictions.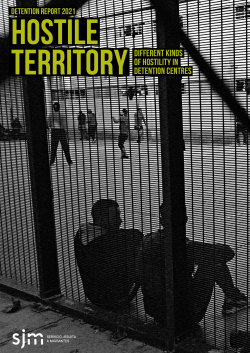 Revisit the presentation of the event (In Spanish)
Download the summarized Report
Download the full report (In Spanish)
Original text published by SJM Spain (In Spanish) is available here