Reliving the Understanding CHANGE Event
30 August 2022
|

Anouk Severin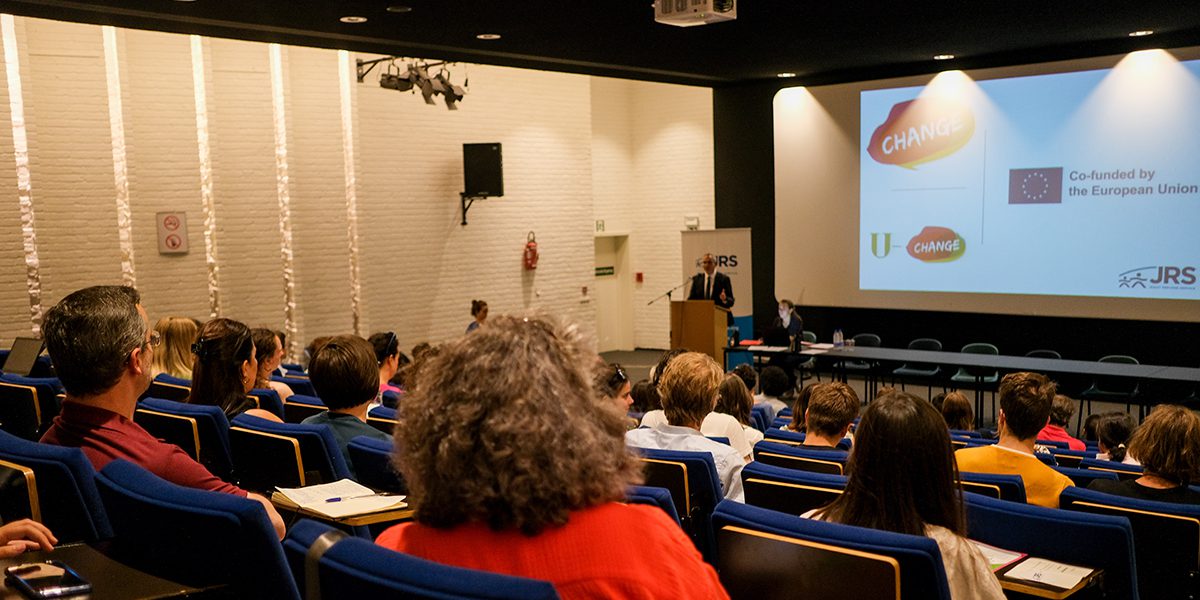 The following is a recollection of the event done by JRS Europe School Outreach Officer, Anouk Severin.
It's 15.00 on a sunny Wednesday afternoon, and our long-awaited event 'Understanding CHANGE' at the Museum of Natural Sciences in Brussels is about to start! People are filing into the auditorium as pictures of the CHANGE project in all partner countries – Spain, Portugal, Malta, Italy, Hungary, Croatia, Ireland, and Belgium – are being projected on the screen. Most of our guests have a freshly printed U-CHANGE report in their hand.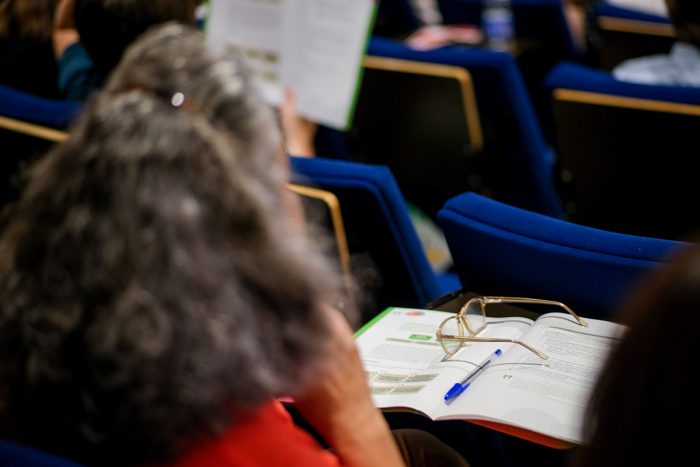 Our director Alberto Ares takes the first word to warmly welcome everyone and to explain the rather packed but interesting program, structured into two parts : 1) a presentation of the educational CHANGE project initiated by JRS Europe in 2019, funded by the Asylum Migration Integration Fund and 2) a presentation of the ongoing U-CHANGE project, co-funded by Erasmus+ and the Agence Francophone pour l'éducation (AEF).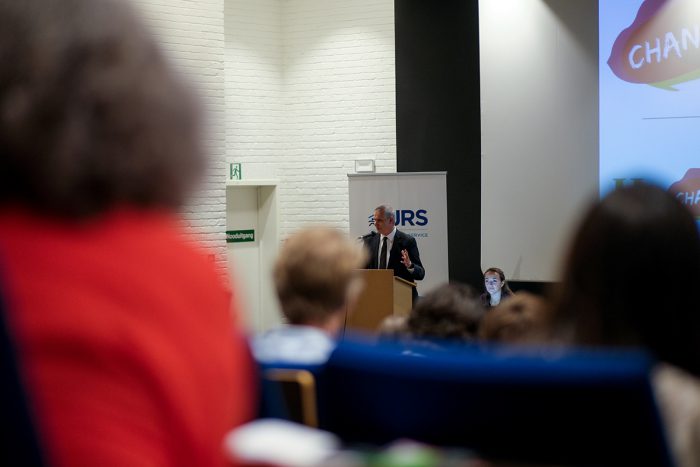 It is with joy that I present our CHANGE project: it feels surreal to be here after 3 years of implementation, and especially with partners, students and teachers from the different European countries. Two students, Angelica and Arianna, from the Petrarca High School of Arezzo in Italy then take the stage and proudly read out the article they wrote about their action. They put forth key learnings and practices on how to be more aware of the realities of people who have had to flee their country: not be driven by the fear of 'difference', going beyond appearances, listening and empathy. It is then the turn of the 6 students from Spain who in a dynamic and engaging way explain how they've learned about migration in a total of 10 subjects (languages, maths, and even technology) within their school, Assa Ikastola located in the Basque country of Spain. Inspiring to see how CHANGE could be implemented in such an interdisciplinary way and throughout the whole school!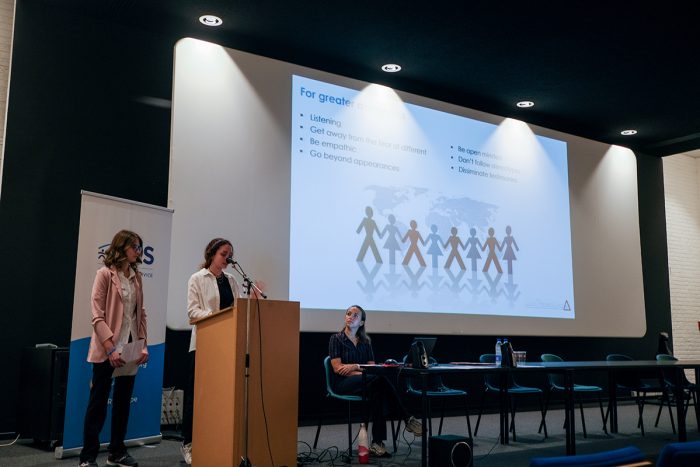 Mikiel, a university student from Malta, wraps up the experiences of students by emphasizing the necessity and the importance of the CHANGE program. He also effectively highlighting how important the context influences the implementation of a program like CHANGE, by explaining the Maltese context. I was also very happy to introduce the final speaker for the first part of the event: Abdulkader, a refugee speaker who has participated in several CHANGE encounters in Belgian schools. He described what an encounter in a school looks like, emphasizing how it makes him feel: "It's incredible to stand in front of a class and to share experiences, but at the same time you feel some pressure because you feel like you are shaping an image of migration and of migrants to the students". Abdulkader explained how for him it's important to make students aware of why people are fleeing their homes and of the struggles and obstacles they may face.
It was encouraging for many of the participants to see how implied the 'actors' of CHANGE were. We now move on the U-CHANGE project: a project coordinated by JRS Europe that researches how students' perception of migration evolved through the CHANGE education project . There are several outputs of this project: the first one being a report, resulting from an academic research done on the CHANGE project. U-CHANGE assessed the data of 3,000 students from 9 European countries. Professor María Consuelo Valbuena Martínez from the University of Comillas presented the key findings of the report, as well as the different steps of their academic research.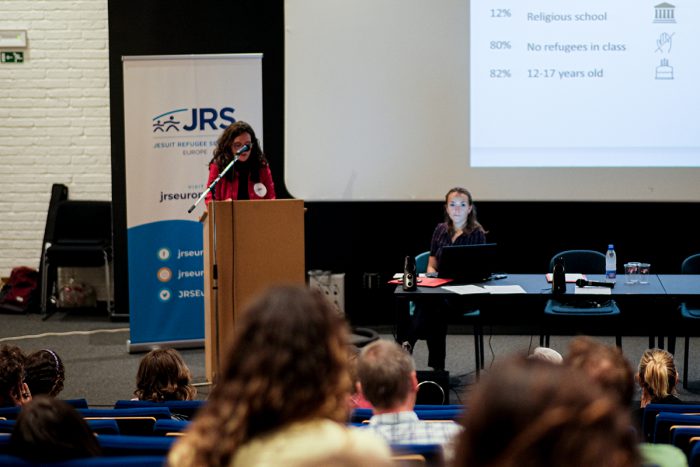 To go beyond our projects and to open the discussion to broader best practices in educational programs which aim to encourage youth to shape inclusive societies, we hosted a panel discussion. We were extremely happy to have with us as panelists: Margot Mackay, co-founded and former director of BE Education; Farzana Islam, co-founder and executive director of Active Citizen Europe and Mercedes Fernandez, director of the University Institute of Studies on Migration. Three main topics were addressed: 1) Design of raising-awareness/educational projects, 2) Implementation of educational projects, and 3) Sustainability of raising-awareness programs.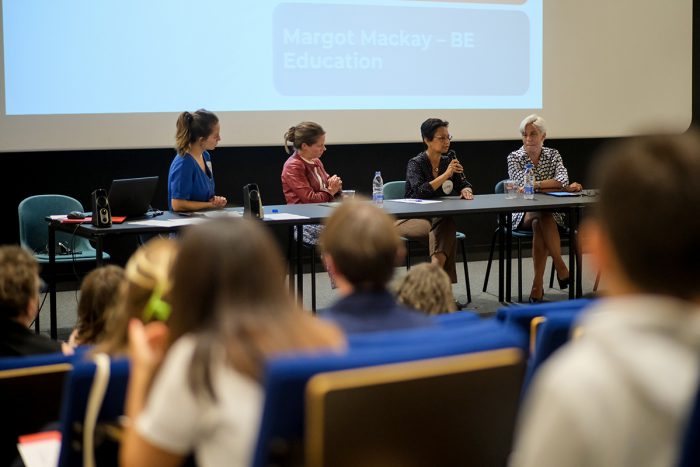 Coming from different backgrounds made the discussion very valuable: Margot brought to the fore concrete practices (of methodologies and tools) and experiences from the educational field in Belgium and on how to support teachers; Farzana and Mercedes focused on the necessity of including young migrants and refugees' voices and participation in these processes, as well as the kind of content to be developed. A teacher from Spain shared her impressions with us: "The panel discussion was really interesting particularly how they addressed how important it is to start with this topic in early education and about the importance of families in the process." From the perspective of a teacher from Hungary, it was insightful to learn about the kinds of problems and challenges that teachers face here in Belgium, and how it relates to some of those in Hungary.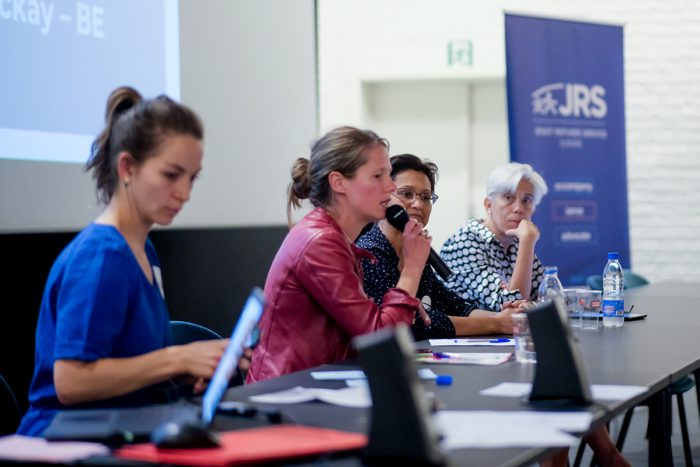 Before we knew it, it was 17.00 – marking the end of the Understanding CHANGE event. Luckily, to top off the event and to exchange with the audience and the presenters, we gathered around some refreshments and appetizers, with a view of the impressive gallery and exhibition of dinosaurs of the museum.
Read the full U-CHANGE report.
Discover the CHANGE programme and  resources.