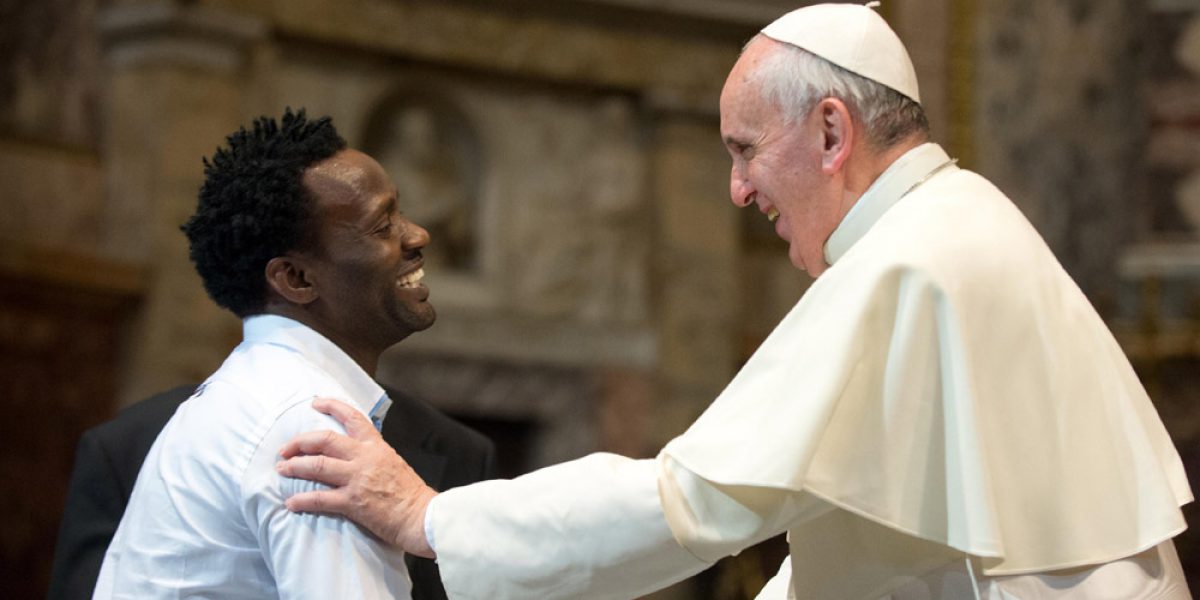 Brussels, 24 November 2014 – On the occasion of Pope Francis's speech before the European Parliament in Strasbourg on 25 November, the Jesuit Refugee Service urges European countries to remain faithful to one of the fundamental values underpinning the European Union by showing concrete solidarity with migrants and refugees and ensuring fully-fledged joint search and rescue operations in the Mediterranean.
European solidarity with those who are fleeing for their lives, as well as solidarity between EU member states has recently been found greatly lacking. Refugees and forced migrants are rarely viewed with compassion as fellow human beings in need, and the responsibility to protect them has all but been forgotten.
For one year, Italy took on the responsibility to patrol international waters in the Mediterranean and rescue migrant boats in distress. Over 140,000 people have been saved by the Italian naval operation 'Mare Nostrum'. Finally, on 1 November this year the EU launched its first ever coordinated response to the challenge of forced migration across the Mediterranean from North Africa and the Middle East.
Operation 'Triton' led by the EU border agency Frontex operates only within 30 nautical miles off the Italian coast. It has a third of the budget of Mare Nostrum and considerably fewer resources. For Europe, the need to secure borders seems to be more important than saving the lives of people.
According to Fr Camillo Ripamonti, SJ, director of JRS Italy / Centro Astalli, European leaders and citizens must ask themselves if a continent of cold-hearted and selfish nations can really be an area of freedom and justice?
"In a world where we can all be informed in real time, Europe pretends not to see the refugees seeking protection within its borders: those who die in the Mediterranean or in the Black Sea, trying to reach Romania. It seems that saving lives is too expensive and that defending human rights is something that we can no longer afford. Let us ask ourselves if this is the Europe we want."
The difficulties and hardships faced by asylum seekers do not end once they reach Europe. In the words of Carol a Syrian asylum seeker in Italy: "Our human rights and dignity too often becomes trampled by the indifference with which we're treated. Here in Italy, many of us have escaped the horror but we still do not feel safe."
JRS Europe regional director Fr Jean-Marie Carrière, SJ says that it is really a question of moral integrity. "Pope Francis reminds us that helping migrants is a central part of the Christian tradition. More importantly, our solidarity should extend beyond simply offering persecuted people a safe place to live. True hospitality goes further than tolerance and must always mean membership in a community."
JRS Europe calls upon European Union institutions to concretely uphold the value of solidarity and in the words of Pope Francis build a "culture of acceptance and solidarity, in which no one is seen as useless, out of place or disposable". Specifically we call upon the EU to:
Allocate the necessary resources to set up a European sea rescue service
Develop a set of strategies for safe and legal ways to access protection in Europe that meet the needs of different groups of persons fleeing human rights violations, war, violence and other dangers so that they will no longer be forced to risk their lives in unseaworthy boats in the Mediterranean
Review the 'Dublin system' and ensure that asylum seekers are no longer forced to apply for protection in countries with asylum systems that do not meet EU standard
Jesuit Refugee Service Europe
http://www.twitter.com/JRSEurope
Our latest report Rescued: What Next? Based on in depth interviews with migrants stranded in southern Italy is available
here
. Visit the campaign page
here
.
JRS programmes are found in 50 countries, providing assistance to: refugees in camps and cities, individuals displaced within their own countries, asylum seekers in cities, and to those held in detention centres. The main areas of work are in the field of education, emergency assistance, healthcare, livelihood activities and social services.
At the end of 2013, JRS employed approximately 1,400 staff: lay, Jesuits and other religious to meet the education, health, social and other needs of nearly 950,000 refugees and IDPs, more than half of whom are women. Services are provided to refugees regardless of race, ethnic origin or religious beliefs.
Pope Francis reminds us that helping migrants is a central part of the Christian tradition. More importantly, our solidarity should extend beyond simply offering persecuted people a safe place to live. True hospitality goes further than tolerance and must always mean membership in a community. – Fr Jean-Marie Carrière, SJ