One year Temporary Protection Directive: a call for continued support for refugees from Ukraine
25 September 2023
|

JRS Europe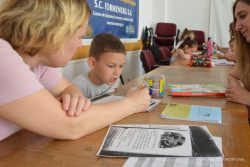 On 4 March 2022 the Council of the European Union unanimously activated the Temporary Protection Directive (TPD) for people fleeing from Ukraine.
This landmark decision has allowed millions of refugees immediate and collective access to protection, rights and essential services in the EU Member States.
JRS Europe joins other 18 civil society organisations organizations in praising the activation of the TPD and all practical steps undertaken to welcome and support refugees from Ukraine.
Yet, ensuring all refugees from Ukraine enjoy the rights provided by the TPD has not been without challenges.
One year from the activation of the TPD, we call on the EU and Member States to redouble efforts to ensure its effective, uniform, and inclusive implementation by addressing the following issues:
Address barriers to enjoyment of status and rights

Protect children and ensure they are in school

Protect non-Ukrainians, stateless people and Roma fleeing Ukraine

Prevent backsliding of support

Invest in refugee inclusion and longer-term solutions from the start

Promote equal treatment of refugees.