JRS Europe presents at the International Congress on Migration and Refugees in the Mediterranean
18 October 2023
|

JRS Europe
The International Congress on Reception of Migrants and Refugees took place in Malaga between October 12 and 15. At this forum, more than a hundred representatives of leading organizations, authorities and specialists from all around the Mediterranean gathered to discuss the best strategies to address the needs of people on the move.
The starting point for the reflection was the significant increase of initiatives implemented by Salesian organizations dedicated to the reception and integration of migrants and refugees, especially in countries close to the Mediterranean situation. To unify strategies and better respond to the needs of people on the move, three conferences were held that set the stage for the entire meeting.
JRS Europe Director, Alberto Ares SJ, led one of the conferences with his lecture "We are all migrants: Towards a Theology of Migration". In it, he focused on the presence and importance of migrant origins in the Christian tradition, tracing it from its root in the Bible, through the Holy Fathers and the Church tradition, to the present day with Pope Francis. He also incorporated the main opportunities and challenges presented by the current migratory and refugee reality.
The other two conferences were given by Giuseppe Riggio, who focused on the causes and perspectives of migrations in the Mediterranean, and Vincenzo Salerno, who analyzed the case of the Community of San Luigi – Gorizia in Italy to explore socio-educational aspects in pastoral work and pastoral aspects in social work.
During the four days of the Congress, more than fifteen experiences, best practices and workshops were shared from different corners of the Mediterranean.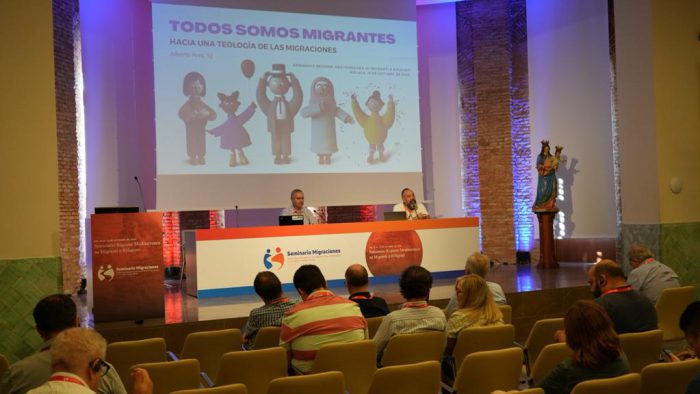 From Don Bosco International, Sara Sechi introduced the Salesian perspective on Europe and migration, while Luis Callea explored young migrants and identity. In addition, the education specialist, Mónica García Arboleda, highlighted migratory grief and how to best support migrants in their process of dealing with it.
The State Coordination of Social Platforms (Coordinadora Estatal de Plataformas Sociales) was represented by Robert Trujillo, who explored new love narratives of migrants, Marta Martín, who highlighted intersectionality in migrant women, and Marita Guerra, who highlighted issues regarding housing for refugees.
Other proposals shared included "'Networks and migrations – Protagonists. Immigration and cultural networks for the future", by Koblan Amissah Bonaventure (Abusouan); "The accompaniment of the spiritual and religious dimension of migrants", by Nando Capovilla (from Pax Christi Italy); and "Egypt and South Sudanese refugees. Lebanon and Syrian and Iraqi refugees: young adults", by Simon Zakerian.
The meeting closed with a discussion on European policies, led by, Jesús Toronjo Benítez, Director General of Migration Policies of the Andalusian Government, and Maria Vittoria Garlappi, representative of the European Training Foundation. Together, they highlighted the instruments available to the European Union and the strategic lines of action to promote cooperation between public institutions and civil society in the reception and integration of migrants.