International volunteers Day at JRS Europe
05 December 2020
|

JRS Europe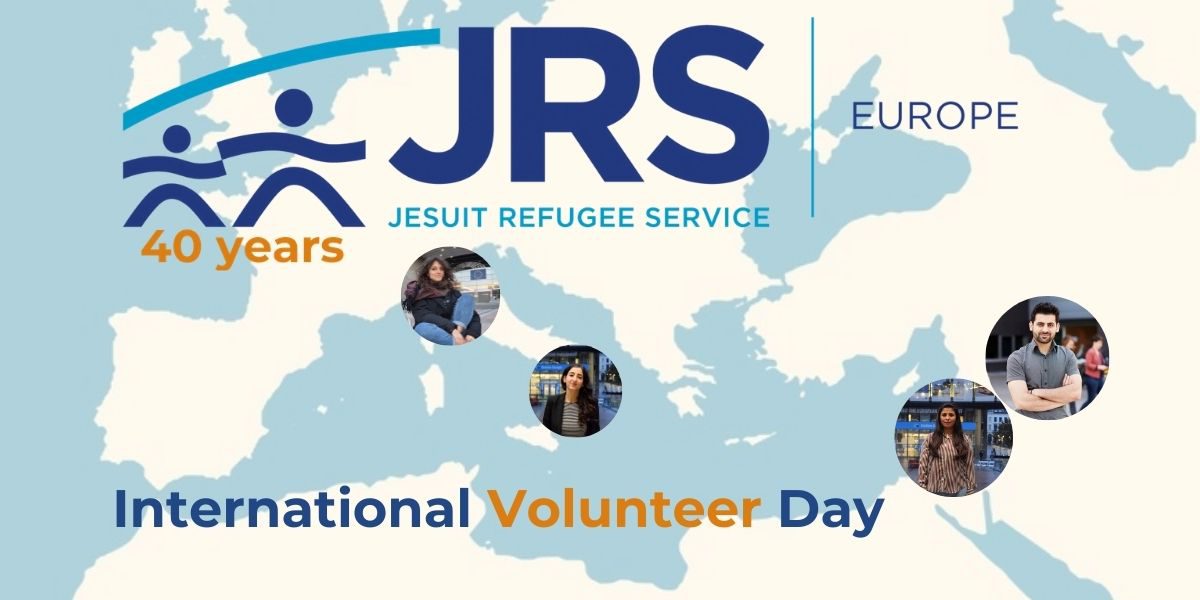 On International Volunteers Day, JRS Europe celebrates its amazing volunteers that contribute to JRS's mission to accompany, serve and advocate for refugees.
Far from the spotlight, volunteers commit their energies and their time daily to build resilient communities. It doesn't matter the age, the gender, or nationality: what volunteers really have in common is the desire to contribute to improve the world.
JRS encourages and promotes volunteering opportunities. JRS Europe volunteers offer their skills to provide vital office administration support in different departments. Volunteers contribute to manage projects and budgets within the Programmes and Finance units. Others support the work on communication and advocacy, communicating on behalf of forcibly displaced people and advocating for their rights, with the aim of having a concrete and positive impact on both the policymakers and society.
Currently JRS Europe accepts volunteers in the framework of the European Solidarity Corps (ESC) programme.
Meet some of our ESC volunteers
Basel: "At the heart of the European policy institutions and integration projects"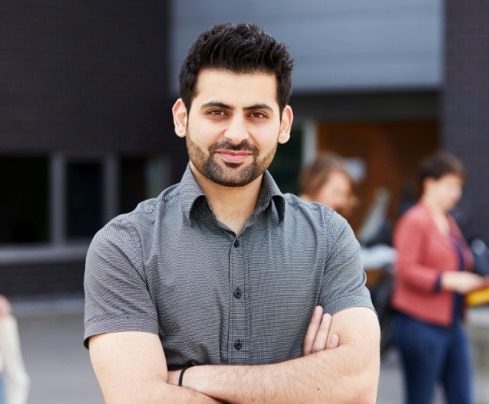 Basel initially joined JRS Europe through a programme of the Centre for European volunteering called Tandem, that looks for volunteer opportunities for refugees. During that time, Basel was involved in different communication, advocacy, and JRS projects—with regular progress evaluations and supported skill development. After the end of the Tandem volunteering agreement, he continued volunteering as part of the ESC until the end of April 2020.
'Out of the loop', that is how I felt since I have sought asylum in Belgium. I received loads of booklets about my rights and duties, discovered initiatives for refugees and attended many events organized for refugees. I wanted to know who is behind these initiatives, who decides policies and how, and to be an ACTIVE part of this relation dynamics.
JRS Europe put me at the heart of the European policy institutions and integration projects. During my search for a volunteering option, JRS was always loud, distinct and efficient. While volunteering with JRS Europe, I have been doing something real for my fellow refugees. Every task I was asked to do fills me with happiness and self-reconciliation because I was invited to tell the stories, needs, feelings and aspirations of displaced people. "We are here to learn from you and provide you with what we know" was the first sentence the Director of JRS E told me. "You should pursue this road, we will support you", the farewell message was.
Giulia: "Be the change that you want to see in the world"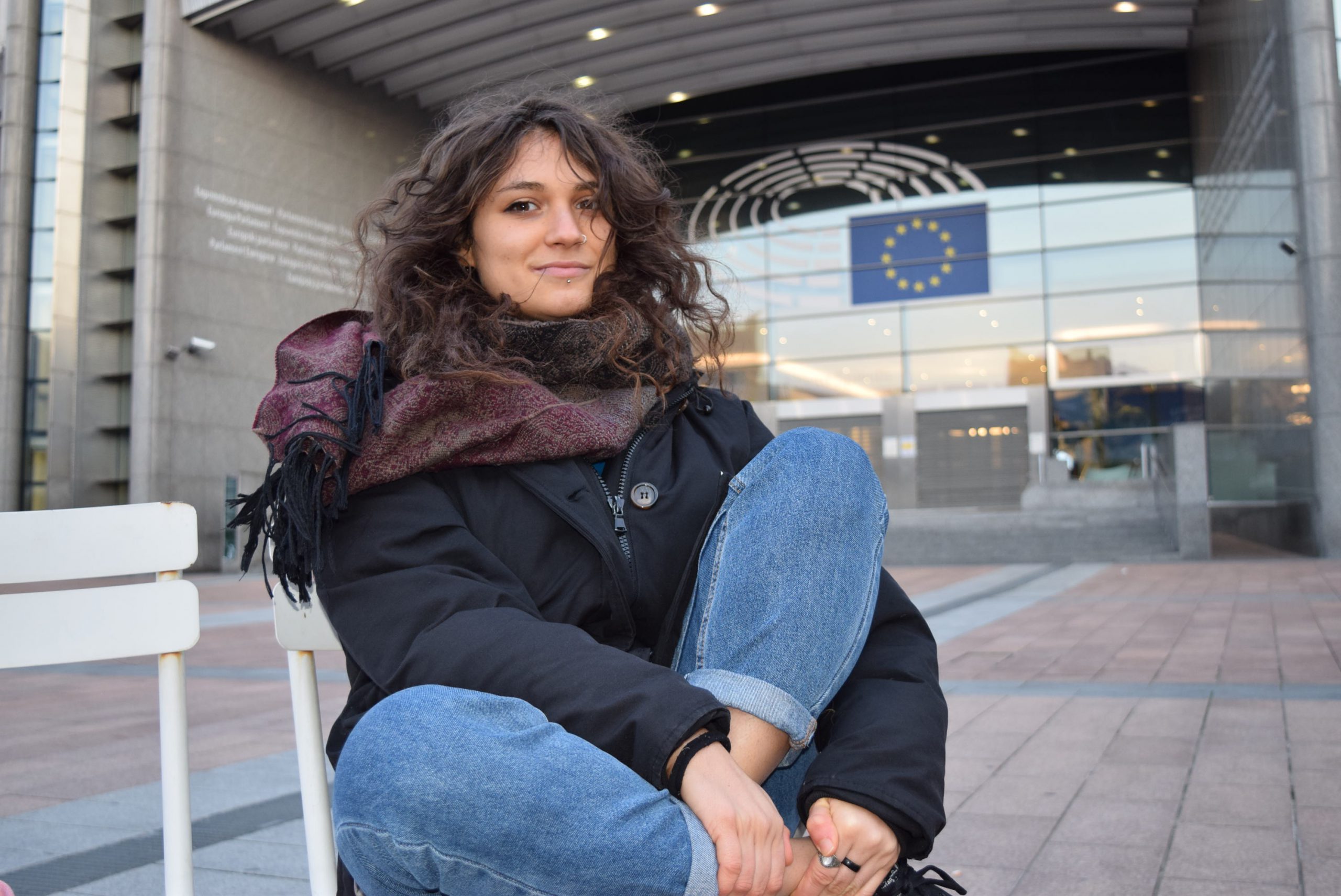 In September 2020, Giulia Pasinato started her volunteering at JRS Europe where she collaborates supporting communication work. After her studies in Visual Communication and in Immigration Law and Sociology, she has had the opportunity to combine both academic backgrounds into her experience at JRS Europe.
I felt emotional when I knew that I was going to leave Italy to come back to Brussels. I did my Erasmus here and I really loved this town and its multicultural environment. Specifically, working at JRS Europe is a good challenge to put theory into practice and to get to know the work of a relevant NGO that fights for the rights of displaced people and refugees. I have learnt a lot of things, going deeply into issues such as alternatives to detention that I didn't know before. And I have understood how much effort there is behind communication and advocacy work (especially the challenge of coordinating the network of JRS with 22 partners in Europe). It has been interesting to listen to what happens in other countries, especially during Covid-19.
I want to say thank you to everyone in my team, and to the other ESC volunteer because I have learnt a lot. Even if we fight for our ideal position, thanks to the team I have learnt that it is important to be diplomatic and to find compromises when you want to see changes in the world.
Martina: "A perspective for the future"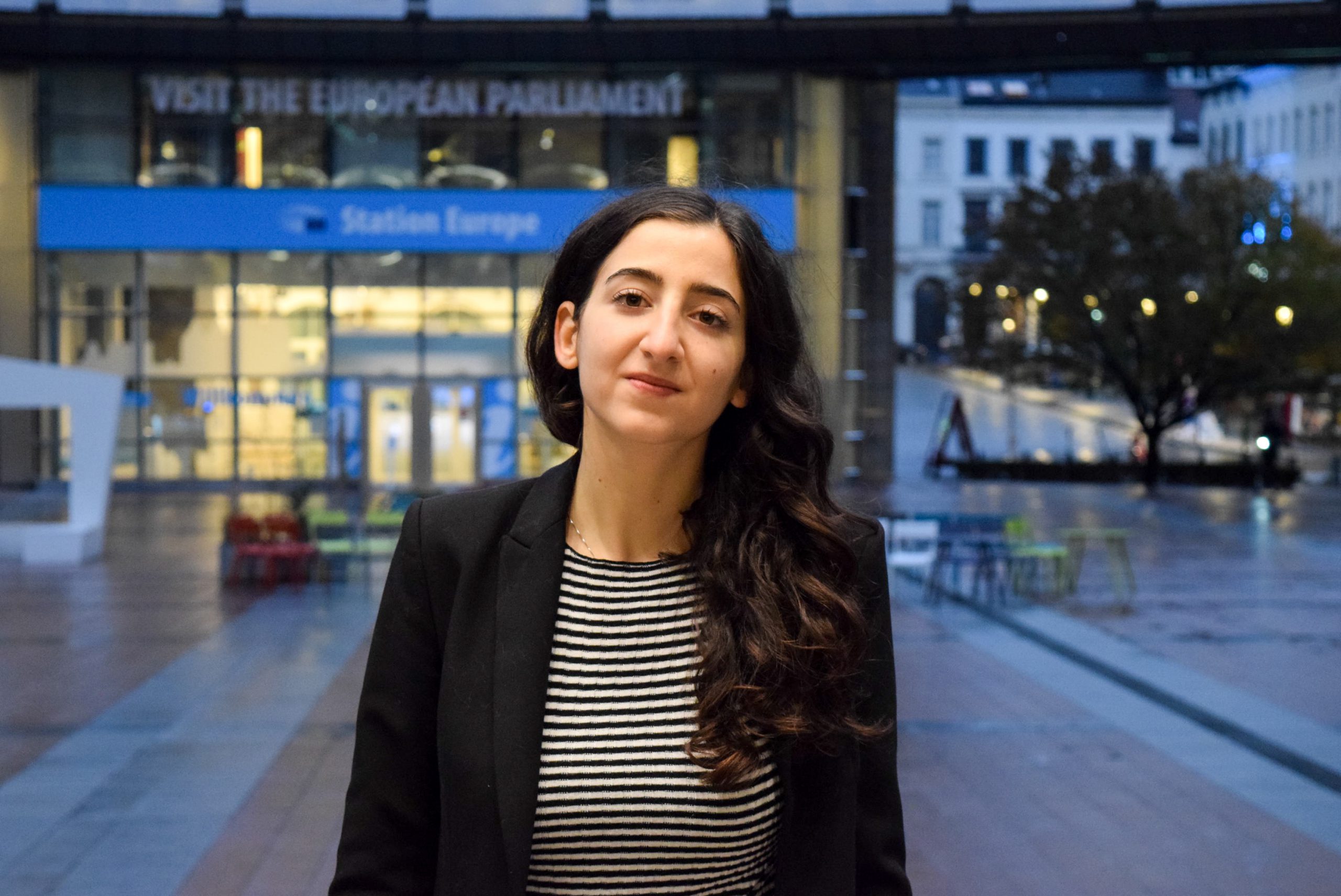 In September 2020, Martina Continisio started her European Solidarity Corps project at JRS Europe. She is currently working in Advocacy and Communications at JRS Europe.
2020 was a tough year for everybody (even if tougher for some people). In the midst of a pandemic, I was struggling to find an opportunity to put in practice what I had learned during my studies and, most of all, an opportunity to work for a cause I feel strongly about. When I was in Italy, I was volunteering with migrants and asylum seekers as Italian teacher. However, I felt I wanted to do more and to use my education to advocate for their rights and to improve people's quality of life. But it was not easy and there, in the middle of a pandemic, I was starting to feel very demotivated.
That is when JRS Europe offered me to join them in Brussels. From that moment, my life took completely another direction from the one I had pictured in front of me. I am not saying that everything ran smoothly: indeed, I could not join the group in Brussels when I was expected to as I got sick with Covid. But the JRS team welcomed me at distance and supported me throughout my healing process and during my moving to Brussels.
I guess this is something that can really make a difference in the life of a person: to give her support, but also an opportunity, a perspective for the future, which is empowering. And I believe that this is what JRS does for all forcibly displaced people: JRS accompanies and serves them during dark times, but also works to change the status quo and to provide for them opportunities in the present as well as in the future.
I contribute to the advocacy and communications work of JRS Europe, which aims at having a concrete and positive impact on both the policymakers and society. At JRS, I am gaining valuable knowledge about the EU law and the European countries asylum and migration policies, about how to communicate successfully and how to coordinate the work of several country offices all over Europe. In the International Volunteer Day, a big thank you to my JRS Europe team and to the European Solidarity Corps.
Abeer: "A place where you feel home"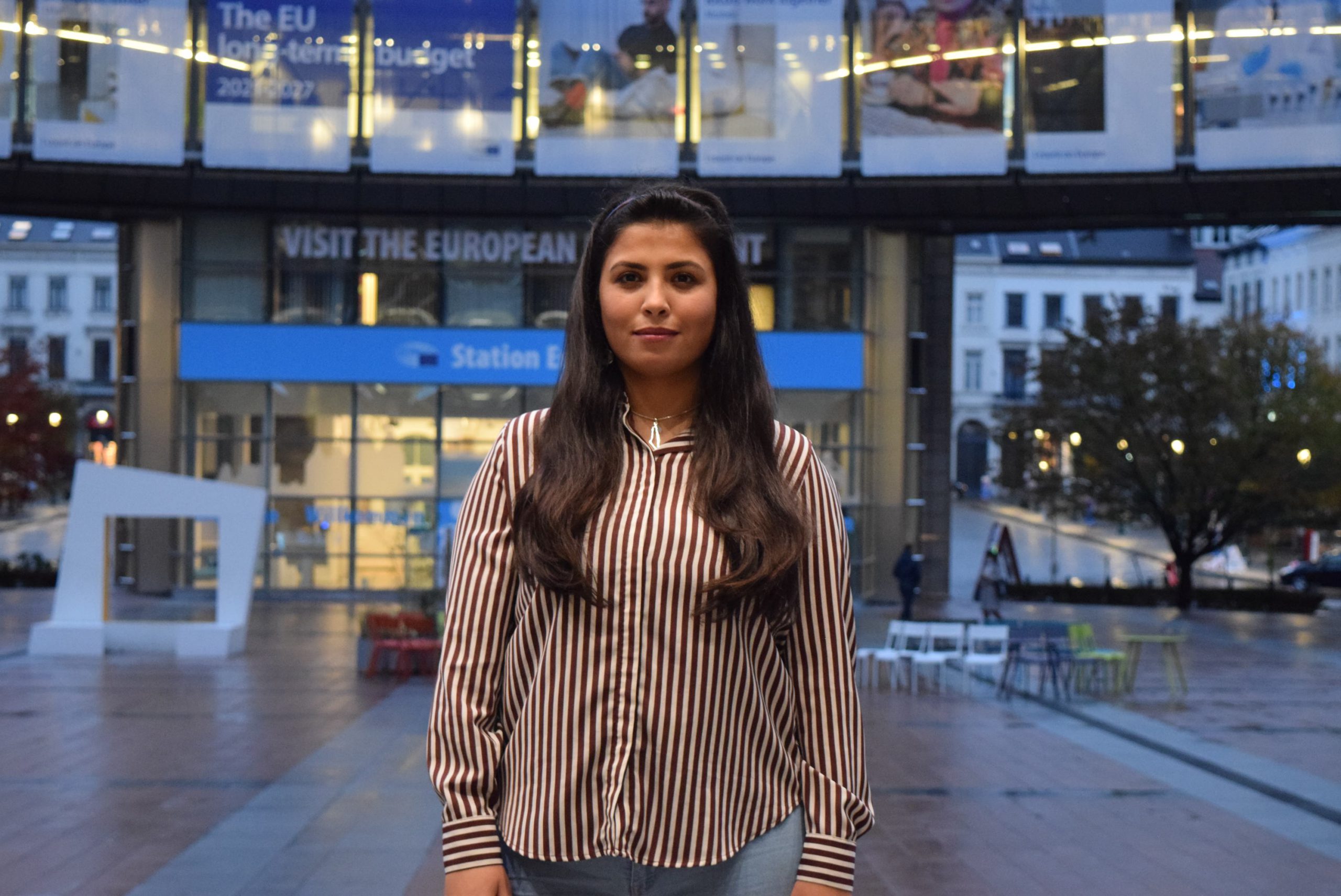 Since I left my home country, Palestine, in 2018 to demand asylum in Belgium, I lost the feeling of being surrounded by a family. I was raised and grown up in a beloved one. I always found support and unconditional love whenever I wanted.
But since I left them, I suffered from depression and anxiety. It was difficult to overcome this issue alone. At the same time, I was shy to talk about it with anyone. This issue had increased by the time, especially when I applied for having a master's degree at ULB. Could you imagine the load of stress that I have to deal with? I thought that enrolling at the university will help me to be a normal person, but it did not. I isolated myself from talking and making connections with my colleagues. I thought that if they knew that I was an asylum seeker, they would judge me. I avoided making friendships or any social connections. Then, I could not help myself again. Surpersingling, the Covid-19 broke out all over the world. We were in quarantine, which made my mental health situation worse.
After easing the Covid-19 measures in Belgium, I started to think seriously on how to overcome this issue. As an asylum seeker, I struggled to fit in the community. I know that a lot of people have the same obstacle as mine. Therefore, I decided to do something useful, follow my dreams, and support migrants and refugees. I started looking for an internship in organizations in the migration and asylum field.
Hopefully, I found a place in JRS Europe. I became part of it as an ESC volunteer. I volunteered in the advocacy team with the Advocacy Officer, Claudia Bonamini. The work focuses mainly on advocating for refugees' rights, which is the core mission of JRS. I wholeheartedly believe that the chance of being part of JRS Europe will lead me eventually to my dreams. JRS Europe has given me the opportunity to discover and experience this field deeply with high mentorship and an excellent work environment.
I found love, friendship, and family care. Being part of JRS Europe helped me to overcome my mental health issues. No one judged me; instead, they showed me care and love as a family.
JRS means a family that really cares about their members, an institution which fights and advocates for a worthy and fair cause, and a community where the members are professional and cooperative as well.