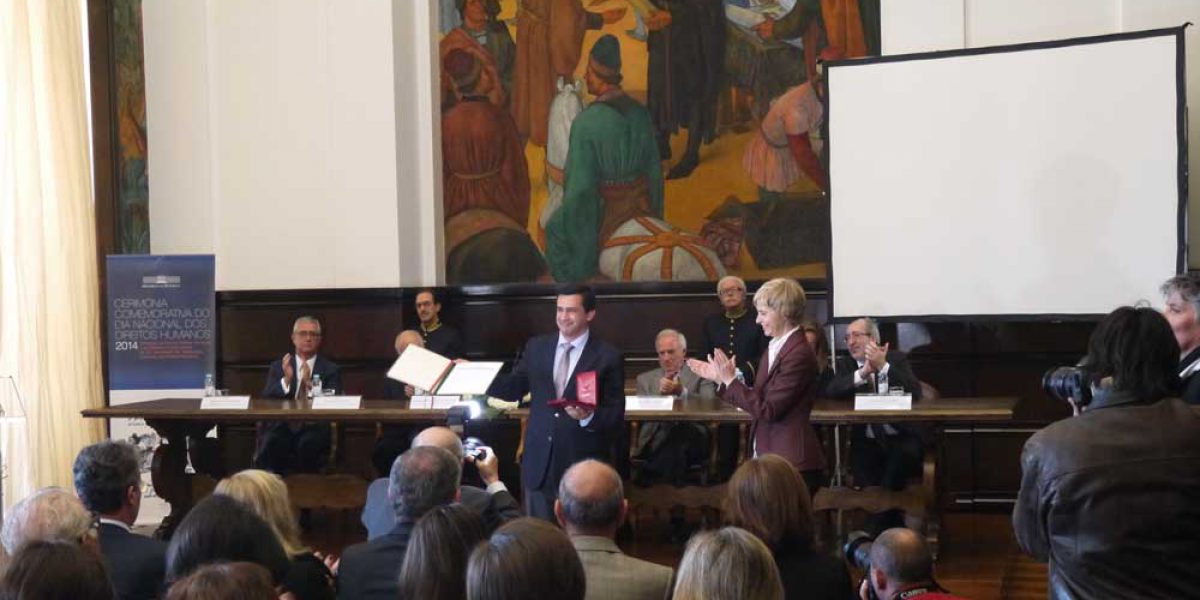 Lisbon, 19 December 2014 – JRS Portugal has been honoured with a commemorative gold medal for its work with forced migrants. The award was presented by the Portuguese parliament on 10th December, International Human Rights Day.
The annual award ceremony also celebrated the work of Maria Regina Tavares da Silva, a well-known activist for gender equality, and the work of the Child Support Institute (IAC).
The jury justified the unanimous decision to recognise the work of JRS Portugal due to its "strong action on the ground, in defending the rights and the integration of the very vulnerable immigrant population" and because of its will "to promote dialogue over immigration, diversity and interculturalism."
André Costa Jorge, JRS Portugal director, thanked the staff and volunteers for their "dedication and confidence in the commitment for the common good" and appealed to the members of parliament to show "concrete solidarity with migrants and refugees by seeking to ensure the dignity of all, so that together we can live in a more just and inclusive society, where there can be a place for everyone."
Mr Costa Jorge underlined that the award is not intended to distinguish one single person but "a large number of people who, today, in Portugal and in several countries in the world make part of this big family and live together the same mission and identity."
Finally, Mr Costa Jorge recalled that one of the most urgent challenges of our societies, given the current number of migrants seeking protection in Europe is "to go beyond mere tolerance. To welcome also means that these people are an integral part of our society," reminding us of the words of Pope Francis that we must build a "culture of acceptance and solidarity, in which no one is seen as disposable or displaced."
Recently, JRS Portugal welcomed fourteen refugees, including five children, under the Resettlement Programme, co-financed by the European Refugee Fund, within the programme "Solidarity and Management of Migration Flows" (SOLID). These refugees come from different countries, such as Côte d'Ivoire, Cameroon, Democratic Republic of Congo, Senegal and Iran. For its social and humanitarian dimension and considering the message it aims to deliver, the project was named "Seeds of Hope".
JRS Portugal is currently active in the following areas: psychological, medical and legal support, support for social integration, referral for different services, homeless migrant accommodation, Portuguese language courses and vocational training.
For more information please visit the JRS Portugal website
André Costa Jorge, JRS Portugal director, thanked the staff and volunteers for their "dedication and confidence in the commitment for the common good" and appealed to the members of parliament to show "concrete solidarity with migrants and refugees by seeking to ensure the dignity of all, so that together we can live in a more just and inclusive society, where there can be a place for everyone."