"Hope kept us there, hope that everything would end, but at one point we saw no more ending approaching", Viola's story
28 September 2023
|

JRS Europe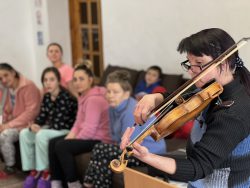 Viola was 51 years old and used to work in an orchestra in Nicolaev as a music teacher when everything changed in one night. They had seen terrible things and lived for months in shelters, hearing the alarms of war every day. "Hope kept us there, hope that everything would end, but at one point we saw no more ending approaching", she said. She had fled her hometown of Nicolaev, ravaged by war, with her 15-year-old son with autism. 
 In the spring of 2022, they arrived in Moldova, struggling to find a place to live. Eventually, she found a man who rented rooms for refugees, but they weren't heated. Unfortunately, the man turned out to be a tormentor, shouting at women, mistreating her son, and refusing to warm up the spaces. 
In November, it was suggested to Viola and her family that they ask CONCORDIA for help, and they arrived at the CONCORDIA Centre for Refugees in the village of Bolohani. There they found warmth, safety and support. They live with several other families. Viola often plays for them, while her son has the opportunity to develop his socialisation skills with his peers. Viola and her son had counselling sessions, they now go to church every week, and her son received therapy. The centre helped them with housing, professional and social integration, and access to medical services, food and hygiene items. 
Viola often expresses her deep gratitude for CONCORDIA's support: "Thanks to you, we were able to escape the cold, to heal and to start building a new life." Thanks to this project, CONCORDIA has supported not only Viola's family but also many other refugee families in Ukraine who found shelter and support at the various Centers and in the host families supported by the organisation. The impact has been tremendous and has changed the lives of those who were in need the most. 
JRS is working together with the Xavier Network, Concordia Moldova, the Society of Jesus in Europe, local civil society, and NGOs in a coordinated Jesuit response. Together we help thousands of people like Iryna. You can read more about The One Proposal: the coordinated Jesuit response to support the Ukraine Crisis here.