Education is a life-saving intervention for refugees
19 May 2016
Related:
Afghanistan
,
Angola
,
Austria
,
Belgium
,
Bosnia
,
Burkina Faso
,
Burundi
,
CAF
,
Cameroon
,
CAN
,
CIV
,
COD
,
Colombia
,
Ecuador
,
ETH
,
France
,
Germany
,
India
,
Iraq
,
Ireland
,
Italy
,
Jordan
,
KEN
,
KHM
,
Lebanon
,
LKA
,
Macedonia
,
Malta
,
MWI
,
MYS
,
NPL
,
PAN
,
PHL
,
PNG
,
Portugal
,
Romania
,
RWA
,
SDN
,
SDS
,
SGP
,
Slovenia
,
Sweden
,
Syria
,
TCD
,
THA
,
TLS
,
Turkey
,
Uganda
,
Ukrania
,
United Kingdom
,
USA
,
Venezuela
,
ZAF
,
ZWE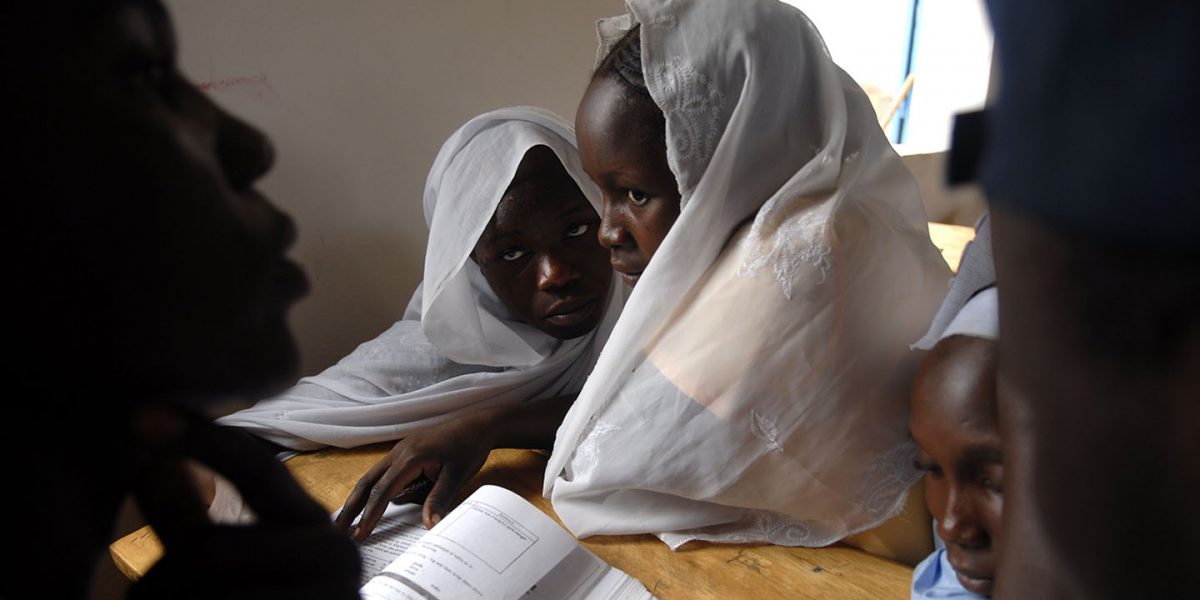 Washington, DC, 19 May 2016 — In the new report Providing Hope, Investing in the Future: Education in Emergencies & Protracted Crises, the Jesuit Refugee Service (JRS) confirms that education is a life-saving intervention for children and adolescents who are forcibly displaced from their homes. In emergencies where many agencies provide basic humanitarian assistance, JRS is on the ground organising educational and recreational activities to heal trauma, promote human dignity, and build skills.
"This report highlights the need to prioritise education for refugees and those displaced by conflict and crisis and ensure that these important programmes receive the resources and political support they deserve," said Giulia McPherson, JRS/USA's Assistant Policy Director and author of the report.
Today, more than 75 million children and young people have their education disrupted or destroyed by emergencies and prolonged crises. Attacks on schools, wars, natural disasters and the largest refugee crisis since World War II have increased the need for education in emergencies.
Despite this need, less than two percent of all humanitarian funding has gone to education every year since 2010. But, that can change. Next week the World Humanitarian Summit will convene in Istanbul to tackle the most significant challenges facing the global humanitarian sector.
During the Summit, the Education Cannot Wait Fund will be launched. This effort aims to both mobilize and coordinate support for programmes that meet the educational needs of children and youth affected by crisis.
"If we do not act they (affected youth) will become victims of child labour, child trafficking and child marriage and they will be a discontented generation of young people, a lost generation," former British Prime Minster Gordon Brown said while previewing the Fund.
"We see the hope that education provides in times of great despair, when the people we serve think the world has forgotten them," said Jesuit Refugee Service West Africa Regional Director Fr Eric Goeh-Akue SJ.
From our founding in 1980, JRS has placed an emphasis on ensuring that the most vulnerable have access to an education, regardless of their circumstances. Working both in newer emergencies, like Syria, and in protracted displacement settings including Chad, Ethiopia and Kenya, JRS is poised to offer substantive, thoughtful insight on providing effective, quality education programmes for the forcibly displaced.
"JRS education programmes help ensure that the most vulnerable and disenfranchised — with a special focus on women and girls — have access to an education," said Armando Borja, Regional Director of Jesuit Refugee Service North America.
Jesuit Refugee Service International Director Fr Thomas H Smolich SJ will participate in the Istanbul Summit and speak on a panel co-hosted by JRS, Theirworld, UNRWA, INEE, the Global Campaign for Education, and War Child. The panel event May 23, is entitled "Delivering Quality Education in Emergencies: What Needs To Be Done."
If all children were to leave school with the ability to read, there would be a 12 percent decrease in global poverty levels. With access to a quality education, individuals can better fulfil their own potential and fully contribute to the growth, strength and stability of their society.
For more information
Christian Fuchs, JRS/USA Communications Director, +1.202.629.5946, cfuchs@jesuits.org
Giulia McPherson, JRS/USA Assistant Director for Policy, +1.202.629.5942, gmcpherson@jesuits.org
Notes for the editor
The Jesuit Refugee Service is an international Catholic non-governmental organization whose mission is to accompany, serve and advocate for the rights of refugees and other forcibly displaced persons.
To accompany means to be a companion. We are companions of Jesus, so we wish to be companions of those with whom he preferred to be associated, the poor and the outcast. JRS services are made available to refugees and displaced persons regardless of their race, ethnic origin, or religious beliefs. JRS advocates for just and generous policies and programs for the benefit of victims of forced displacement, so that those made vulnerable by exile can receive support and protection and durable solution to their plight can be achieved.
JRS witnesses to God's presence in vulnerable and often forgotten people driven from their homes by conflict, natural disaster, economic injustice, or violation of their human rights.
As one of the ten geographic regions of Jesuit Refugee Service, JRS/USA serves as the major refugee outreach arm of US Jesuits and their institutional ministries, mobilising their response to refugee situations in the US and abroad. Through our advocacy and fund raising efforts, JRS/USA provides support for the work of JRS throughout the world.
"We see the hope that education provides in times of great despair, when the people we serve think the world has forgotten them," — Fr Eric Goeh-Akue SJ