"At first it was a peaceful place. However, in a little while everything changed.", Olga's story
28 November 2023
|

JRS Europe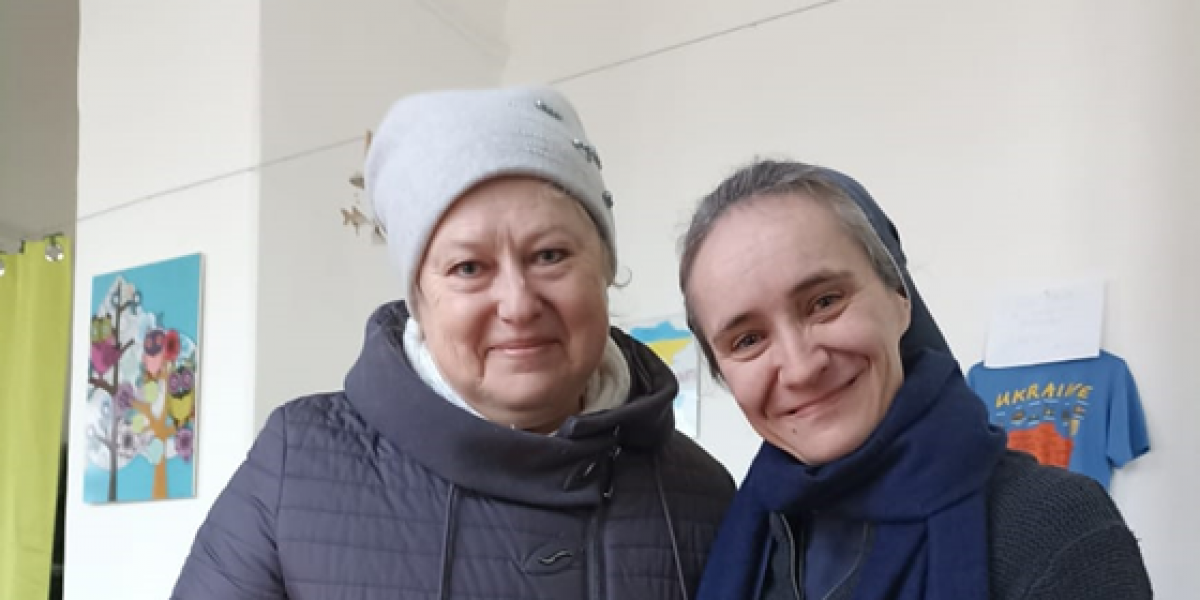 Olga lived in tranquil life in Sumy with her husband, enjoying their retirement years. However, when the Russian aggression started the building next to them was a Centre for mobilizations and she feared that it might be bombed so they decided to move to the countryside.
"At first it was a peaceful place. We had a garden next to our house and we kept chickens and rabbits. We lived in peace there, even though the war had already started. However, in a little while everything changed. Heavy fighting started 30 km far from our village. All night long armoured vehicles drove through our village. The bed, the furniture…everything was shaking. We experienced great fear and anxiety. I couldn't sleep, I was shaking all over. I was no longer sleeping on the bed but on the ground. However, the ground was also rumbling and that made me feel even worse. Into all this, fighter jets started flying over the village. We couldn't live like this any longer", she recalls about her time in the village in the countryside.
After a call from, her son who lives in Belarus, she made up her mind to leave. "My husband didn't want to go at first, but I was decided to go by myself. Finally, he decided to go with me.. It was in the beginning of May. At the station there was very chaotic situation, and the train was very full of people. We didn't know where we were going other than the train was going to Uzhhorod. We travelled there for 20 hours. In Uzhhorod we were waiting for 7 hours. There we had to decide which country we wanted to go to. Slovakia seemed to me to be the safest country. Slovak language and culture is similar to our language and culture, also there is beautiful nature. We decided to go to Slovakia. Slovak volunteers were waiting for us at the border and gave us hot tea and biscuits. They were holding a banner with the words: Welcome to Slovakia".
Her son's work colleagues helped them find a place in Košice for a few weeks and a more long-term accommodation in Trnava later. While incredibly grateful for the help provided, this change had quite a big impact on them. "When we arrived in Trnava, we felt lost. We didn't know what to do in such a small apartment. We were used to a house in the village. So we sat in the room for days, not talking, in silence… stressed and depressed", she remembers.
Through biking they connected with locals and "slowly started to be open for life in the city" and through them they found out about a Day of national Ukrainian food, organized by the Slovak Catholic Charity at the Family Help centre that JRS operates. Olga decided to join the Eco-social Wardrobe of the Family Help Centre because "besides material help, I found there very nice people from the Family Help Centre who created a place for us to meet, to share, to create a Ukrainian community. JRS support means for me security, hope, and help to accept the situation in which we live."
Looking forward, Olga relies on "God's help" and hopes to go back home. "We are very well off in Slovakia, we are well taken care of thanks to JRS. But as soon as the war is over, both my husband and I want to return to Ukraine, to our home. We are already old people and we have lived in Ukraine for years, where we also want to die."
JRS is working together with the Xavier Network, Concordia Moldova, the Society of Jesus in Europe, local civil society, and NGOs in a coordinated Jesuit response. Together we help thousands of people like Veronika. You can read more about The One Proposal: the coordinated Jesuit response to support the Ukraine Crisis here.