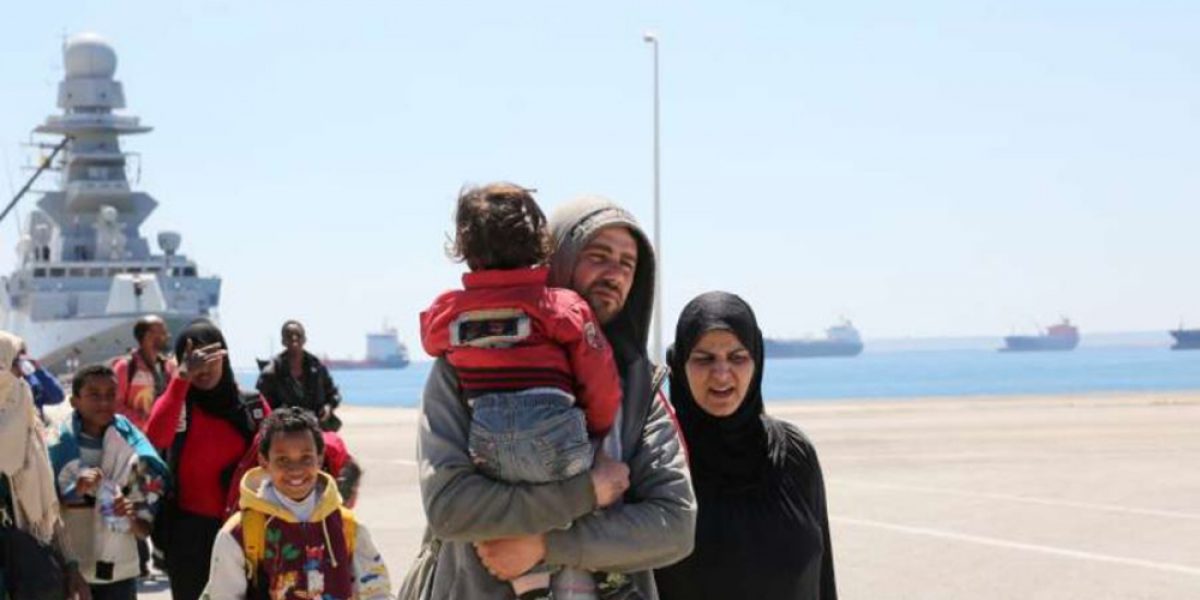 PEB PROJECT Palermo, 25 October 2017 – In this month's Protection at External Borders (PEB) article, we interviewed social worker Elio Tozzi, who works with the Pedro Arrupe Institute in Sicily. The institute is a part of the Jesuit network and has signed a memorandum of understanding with Centro Astalli to participate in the Protection at External Borders (PEB) project.
What are the most important aspects of your work with migrants and refugees?
I've been working with migrants and refugees in Sicily for several years. I strive to know the reality that migrants and refugees experience once they land in Sicily. I do this by listening to their perspective of life in Sicily and learning about what brought them here. The people I meet are usually in need of specific information. Other times, they just need to talk with someone who isn't a state official. Listening and talking with migrants is a very important part of my job, because I'm in a position to relay their experiences to the people who have influence over their situation.
What are the three biggest problems that migrants face in Italy?
Firstly, migrants experience barriers at every step – not just geographic barriers, but linguistic, cultural, and social barriers, too. For newly arrived migrants, not knowing the local language is their biggest problem. It keeps them from knowing which procedures to follow, what their rights are, and where to find food and shelter.
Secondly, migrants have little control over their immediate destiny. Everyone who comes from countries that Italy considers 'safe', i.e. those which have signed a readmission agreement with Italy, risk being repatriated. In these cases, many are prevented from applying for asylum and are left on the street by the police without any information on what happens next.
Thirdly, and related to the first two problems, is the huge risk of simply getting lost in the asylum and migration system. More than anything else, getting lost in the system runs people into total despair.
Tell us about a memorable encounter with a migrant. How has that person's experience affected you, personally?
A few months ago, I met a Syrian family in a small village near Messina, in northeast Sicily. The family had been transferred from the Netherlands under the Dublin Regulation. They had obtained refugee status within a year of living in Italy. The oldest daughter had attended her first year of primary school and was already able to speak Italian; their youngest was a three-year-old boy. The family was living in state-provided housing, but were forced to leave because the terms of their reception had expired. I've been working with them daily for about a month to help them find a solution. Initially they were searching for employment and a house to rent. Soon, their savings were nearly spent. In a few days they moved through several cities in Italy before finally travelling again to the Netherlands.
I haven't heard from them for nearly two months. I keep thinking about their story. Here was a family who left war-torn Syria, sought and received refugee status in Italy, and were now barely able to make ends meet. I kept asking myself: what is the point of the reception system in Italy for asylum seekers and refugees, if it leaves 'model' families like this in a more vulnerable situation?
In your view, what needs to change in the way Italy receives migrants?
Many things need to change, from how Italy receives migrants, guides them through the asylum and migration system, to the quality of services they provide. Crucial protections are being stripped back. For example, the Italian parliament recently approved a new law that takes away the ability of an asylum seeker to appeal a negative decision on their claim, and to make their case in person before a judge. As a result of the parliament's action, a judge need only consult a video recording of an asylum seeker's interview to make a decision on their case.
Most of all, Italy needs to stop concluding agreements with Libya that keeps migrants stuck there in horrific conditions. Protecting people's human rights, and treating them in a humane and dignified way, has to be more of a priority than curbing migration flows.