No.5 The other route: going through hell
09 March 2016
|

Danielle Vella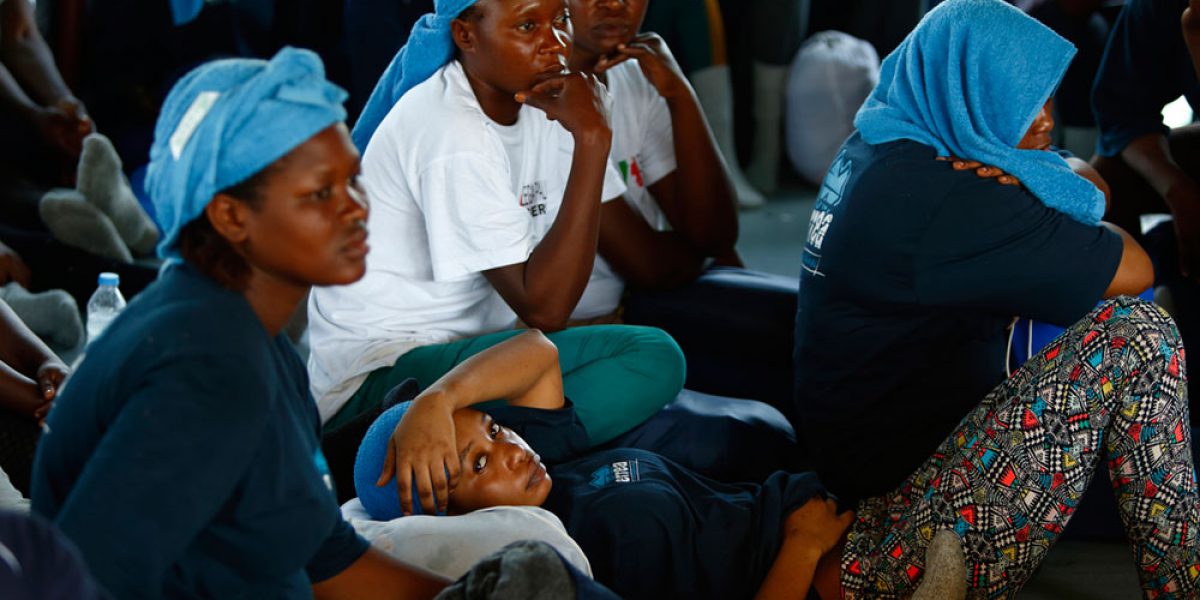 By Danielle Vella, JRS Europe
"I am never going back to Somalia, ever." Yasmin's firm determination not to return to her home country is more than justified. The 19-year-old girl left to avoid the unwelcome advances of a member of the Al-Shabaab terrorist group. Saying no was not an option. "Someone from Al-Shabab wanted to marry a friend of mine and her father said 'no'. Both father and daughter were killed."
Yasmin set off alone on a horribly risky voyage to Europe, which took her across the Sahara desert and Libya, two death traps for refugees. The journey was especially difficult for Yasmin, whose legs had been badly maimed two years earlier, when her home in Mogadishu was caught in crossfire between the army and Al-Shabaab.
Yasmin risked life and limb to reach Italy. And when she did, she was not even given the chance to apply for asylum. She landed in Lampedusa in early 2016, and was asked to fill in a form, which included a list of possible reasons why she had come. Yasmin innocently ticked "work". Apparently "asylum" was not specifically listed – if indeed Yasmin could have articulated her need for protection so neatly. She was then handed a document stating that since she did not express the wish to apply for asylum, she had seven days to leave the country.
Yasmin was turned out on the streets of the Italian island of Sicily, alone, with only her expulsion order in her pocket. Days later, Sofia, an older Somali woman, found Yasmin and another 19-year-old compatriot, Amina, at the train station of the city of Catania. They were in tears.
The two girls had been sleeping outside, with no idea what to do or where to go. Although Amina had not been officially told to leave Italy, she had received an indifferent welcome upon arrival. Since she did not expressly apply for asylum, she was dropped by the system, and completely lost. Sofia took Yasmin and Amina to Centro Astalli, as JRS is known across Italy, where they were looked after and immediately given legal aid.
Yasmin is not the only refugee to arrive in Italy, only to be told to leave again almost immediately. The document imposed on her and many others is known as "respingimento differito", which roughly translates into "postponed pushback". Ultimately it is just another way of making sweeping and arbitrary distinctions at the border between the 'deserving' and 'undeserving' of protection.
It seems that the decision to push people back – eventually – is based on the form they fill in on arrival, without the necessary information or help to do so. So people who need protection and would certainly apply for it, if they knew how, are summarily dismissed.
I've heard more of the same in recent weeks along the Balkan route that most refugees are now taking into Europe – a route that is becoming more impassable by the day. And now I see that refugees who travel here via the central Mediterranean route, and who usually end up in Italy, are also facing a measure of resistance.
The central Mediterranean route is long and dangerous, especially for refugees coming from sub-Saharan Africa, who use it most. By early March this year, more than 9,000 had landed in Italy; 97 died in the attempt. 2015 was the deadliest year on record for refugees crossing the Mediterranean, and the large majority of recorded deaths, 2,892, occurred on this route.
Yasmin and Amina survived but were completely traumatized by their time in the Sahara desert and in Libya. Yasmin took a year, and Amina took one and a half, to run this gauntlet. Smugglers in the Sahara kept them captive because they wanted money. Yasmin's parents had given her all they had for her journey but the smugglers wanted more. Amina had no money at all so the smugglers regularly inflicted punishment on her. "I cried for 24 hours, every day," she said.
Amina cried when she talked to me too, so much that she could barely get any words out. She muffled her face in the folds of her scarf, every now and then saying something. Unprompted, she showed the scars that riddled her body: this from the beatings, that from the electric shocks, this – a scar on the skin between her thumb and forefinger – with a knife.
And, as she remembered the horrors inflicted upon her, Amina kept saying: "I have no mother and no father, I am alone."
Abandoned as she was, Amina found help from fellow Somali refugees, who paid the smugglers for her trip; each contributed something to ransom her. But in Libya, Amina's calvary continued. She was imprisoned twice, the second time after the boat she took to reach Europe sank. Forty people drowned. The survivors were returned to Libya, detained and brutally beaten for daring to sneak out of the country.
Yasmin was also very badly beaten when she attempted to escape from the place in Libya where she was detained. She spent eight months inside. She was released only when a delegation from some international organisation visited, discovered the bleeding and faint waif, and managed to take her out.
The details of life in the desert and Libya are all too horribly familiar, I have listened to refugees tell of their agony too many times, starting from the smugglers in the desert who hold the refugees ransom and torture them to squeeze out as much money as they can.
This loathsome practice is repeated across Libya, a frighteningly lawless place where defenceless refugees are singled out for easy extortion and exploitation. Those who are not arrested or abducted at least once are indeed lucky. By whom they are taken is not always clear. As one refugee told me, "How can you say? So many Libyans wear a uniform and carry a gun." Criminal gangs, engaged in human smuggling and trafficking, are one sure culprit. Militia groups are probably another. Meanwhile, the internationally recognized government of Libya, through its department for combating irregular migration, holds thousands of "undocumented foreign nationals" in indefinite detention in at least 15 centres across the country, where they face torture and other ghastly treatment.
Just imagine passing through and managing to get out of this hell, only to be turned away or ignored at the destination that you suffered so much to reach. For Yasmin and Amina, this is nearly the last straw. Since they have been unable to apply formally for asylum, they have not been placed in an official reception centre, where they would be living in relative comfort. At least, they have now found place in an NGO shelter, but this emergency accommodation is far from ideal.
Riccardo Campochiaro, the JRS lawyer in Catania, is pressing to file asylum applications for them as soon as possible, but says it will take at least two months, due to bureaucratic reasons. He explains that the authorities have been persuaded to allow the submission of asylum applications by people who have been served with a "postponed pushback" document.
Meanwhile, Riccardo and other lawyers are doggedly appealing every case in court. He said: "We told the authorities we will appeal every 'postponed pushback' here in Catania. We are appealing on the grounds that people were not given any information on arrival about how to apply for asylum or even an explanation about what asylum is. The point is: you came here to seek asylum, why didn't you do so? There has to be a moment where someone explains to the person what asylum is, and do they want to apply or not?"
The commitment of Riccardo and his colleagues to their refugee clients is admirable. But the procedure takes time, so that many refugees get tired of waiting, and disappear quietly to continue their journey into Europe, without any recognition or support whatsoever.
Yasmin and Amina are waiting patiently. Both keep saying the same thing: in essence, they want a document that gives them protection, not that pushes them back.
"I want to do everything necessary to stay here," says Amina. "I want a document, I want to work, so I can help my brothers and sisters who are in Somalia. They have no one, we have no mother and no father."
Hopefully, the two girls will eventually get the protection they long for and so urgently need, and will be able to rebuild their broken lives, bit by bit. God knows they deserve all the help they can get, and not the shabby welcome they received instead.