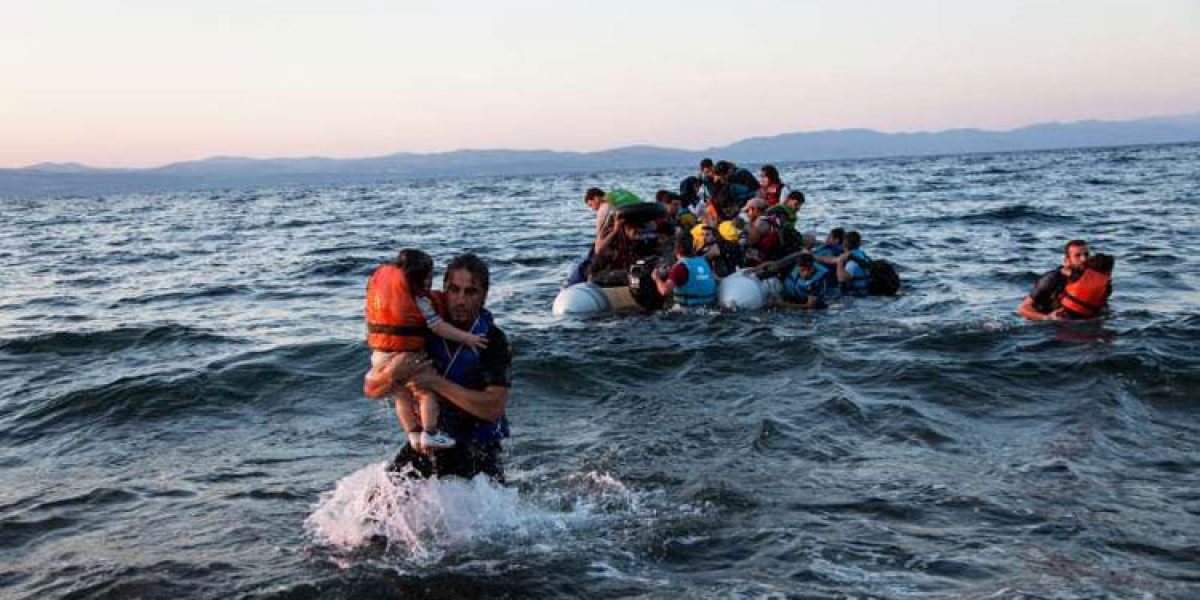 20 November 2015 – Under UNHCR coordination and working with Caritas and other NGOs, JRS has sent a team of volunteers to Mytilene on the island of Lesbos and to other border areas, where refugees are arriving and leaving in great numbers. Here, JRS Hellas director Maurice Joyeux SJ shares some first-hand experiences from the island.
Monday, 9 November, sunrise, 5.15am: we participate in the reception of refugees on arrival at the beachfront and help to distribute clothes, water bottles and cheese sandwiches wrapped in cellophane.
We assist and cooperate with the arrival of three rubber dinghies that have carried more than 50 people from Turkey to Greece. People tell us that they paid 1,600 euros per person for this precarious passage.
The refugee arrivals so far have been lucky: the sea is like oil and the sun is on the horizon. They were crossing the sea between 2 and 4 o'clock in the morning. The joy on the faces is intense and selfies multiply.
Women and children (many, at least ten per boat) are more shocked: the cold seizes everyone and we quickly distribute warm, dry clothing. For all ages, pants, shirts and jackets for small children are available. Syrian mothers and fathers continue to thank us, very graciously.
The refugees set off on the basis of our information to the police and to their camp Kara Tepe which is about 8 to 10 kilometres away while trying to dry in the morning sun. We transport some children with their mothers to the camp itself.
Let me share some images
A man, a Syrian, standing feet still in the water, as if he was in between heaven, earth and the sea. He has a knife high above his head. He shouts in Arabic words I do not understand. He is proud, shouts at the top of his lungs. He throws himself on the dinghy as if to express all his fears and all his fights as a free man. The dinghy is the subject of all expectations, fears and promises. He repeatedly stabs the boat that brought him here. The air leaking of the rubber is Turkish. It is beyond the boundary made of water and salt, waves and nocturnal depths.
Soon the rising sun welcomes everything that was then without hesitation thrown into the sea: buoys, floating polystyrene, flashing light, life jackets orange, yellow, dark blue … memories of suffering abandoned to oblivion.
Should we remain insensitive to the human condition and to its proud expression? Maybe the four or five men who coldly, quickly strip the dinghy of its precious engine are. Near them, indifferently pass a number of women's faces, children. On-board humanity!
A proud man with a black moustache and with a red kufiyah comes to me. He is dignified and imposing, yet fragile. He leans on another man older than him. Would he be strong enough to support the other man? All of Palestine is suddenly present. He does not care about journalists who chase his face with cameras flashing. He walks and climbs the ramp of the ferry. The rear is as wide as the open mouth of a dragon, full with iron teeth shaped escalators; the ferry swallows the waiting crowd. Each person will go on the ferry. Next one, please!
This is a Syrian family that follows two men. I distinguish three children, a grandfather's head, as proud as the Palestinian man. The couple walks and waits for each other… The husband has only one leg, he slowly leans on high crutches pressed at his armpits… Children are clinging to their father. Mother, in a beautiful veil, closes the group. Is she holding a child in her arms? No, I'm wrong, it is the prosthetic metal leg of her husband that she holds in her arms carefully as one holds a future which in return holds you: proud and free.