#ThisTimeImVoting – ZAGREB Youth gathering
20 May 2019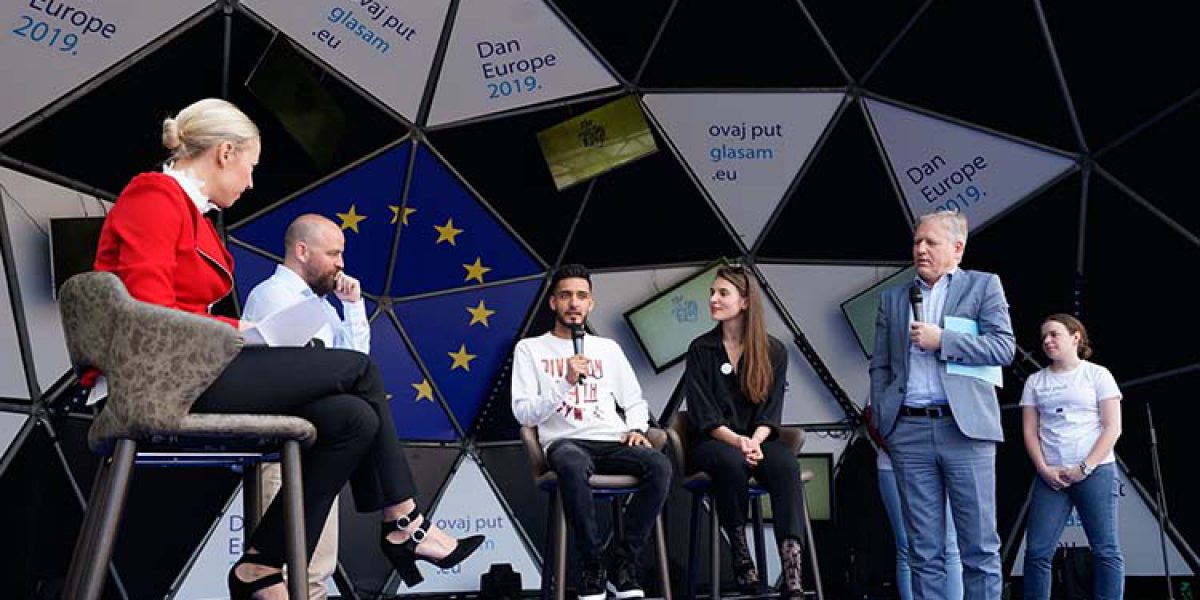 Croatia, 20 May 2019 – The European Parliament Liaison Office in Croatia along with different partners, including the Jesuit Refugee Service Croatia organised last week a big event for Europe Day, #ThisTimeImVoting Zagreb Youth gathering.
The event was a unique moment to bring together over 400 high school graduates, among whom many will have their ever first voting experience on the upcoming European elections.
Why celebrating Europe Day?
Each May, European institutions in cooperation with national authorities, partners and stakeholders celebrate the European Week and Europe Day, on May 9th. In this occasion, the European Parliament Liaison Office always organises several days of events in Croatia, reminding the youth what the European project means for our future – and what Europe does for us in our everyday life.
This year, the focus of #ThisTimeImVoting event was raising-awareness among the youngsters about the importance of actively participate in the European Parliament Elections, that in Croatia will take place on Sunday, 26 May 2019.
JRS Croatia partnered with the stakeholders, providing support for the event and organised several activities. Mirna Varga, JRS Croatia's volunteer coordinator, held a workshop for numerous high school students arriving from all over Croatia. The topic of the workshop were stereotypes and prejudices. Students were given a list with 9 names and faces and they had to decide with whom they would like to sit next to on a 16-hour long flight to New Zealand. Then, they had to make the same decision in groups of 4, ranking who they would like to sit next to most, and who they would feel uncomfortable sitting next to. After an interesting interaction during the workshop, students became aware how easily discrimination can arise from unfounded prejudice and stereotypes.
Building bridges between refugees and local communities
After the workshop, JRS director for South East Europe, Fr Tvrtko Barun SJ, took the stage along Mr Žarko Katic, State-secretary at the Interior Ministry, discussing the resettlement programme JRS Croatia's team is conducting. It consists in integrating soon-to-be arriving Syrian refugees into Croatian society.
During the presentation, particular stress was put on the importance of building bridges between refugees, forced migrants and local communities. Only if we open to diversity and hospitality, we can shape a Europe of inclusion. In order to achieve this goal, some firms steps must be taken and asylum seekers's right to enter the labour market must be guaranteed.
The discussion was enriching and several high school students joined the speakers on stage, sharing their experiences from the previous workshop. Among the students, one successfully integrated refugee from Iraq, Idris Mohammed Faisal Faisal, a JRS beneficiary, shared his story of arriving to Croatia, living in Zagreb and talking about what he liked about the country. Idris stated that he has recently been employed, with the help of JRS officer's liaising. He spoke in very good Croatian an earned a big applause from the gathered students.
Our Power in these European Elections
JRS Croatia is part of JRS Europe's The Power of Vote campaign that calls all the European citizens to vote while keeping in mind the rights of refugees, migrants and asylum seekers.
JRS team members handed out the campaign materials on protection, liberty, dignity, solidarity to students and other in attendence, encouraging them to study the materials and vote in the upcoming European elections. Influencers Iva Šulentic and Ivan Vukušic who were moderating the event were also filmed calling to vote for Europe of equality and solidarity.
The event was concluded by Fr Tvrtko Barun's call: "The next European Parliament will play a crucial role in shaping EU policy. I am asking you, because it's our common duty, to vote for a Europe of protection through the establishment of enhanced safe and legal pathways to access European territory; for a Europe of dignity by creating humane and dignified reception facilities for people in need of protection; finally for a Europe of liberty by stopping the detention of vulnerable people, including children, and utilising alternatives to detention. In the end, use your power of vote for a Europe of equality by making the integration of all citizens, including asylum seekers, refugees and forced migrants a reality! Vote for a Europe that leaves no one behind. Be young and be change!"
"Be young and be change!"