The long journey to Europe Conference Programme
26 April 2019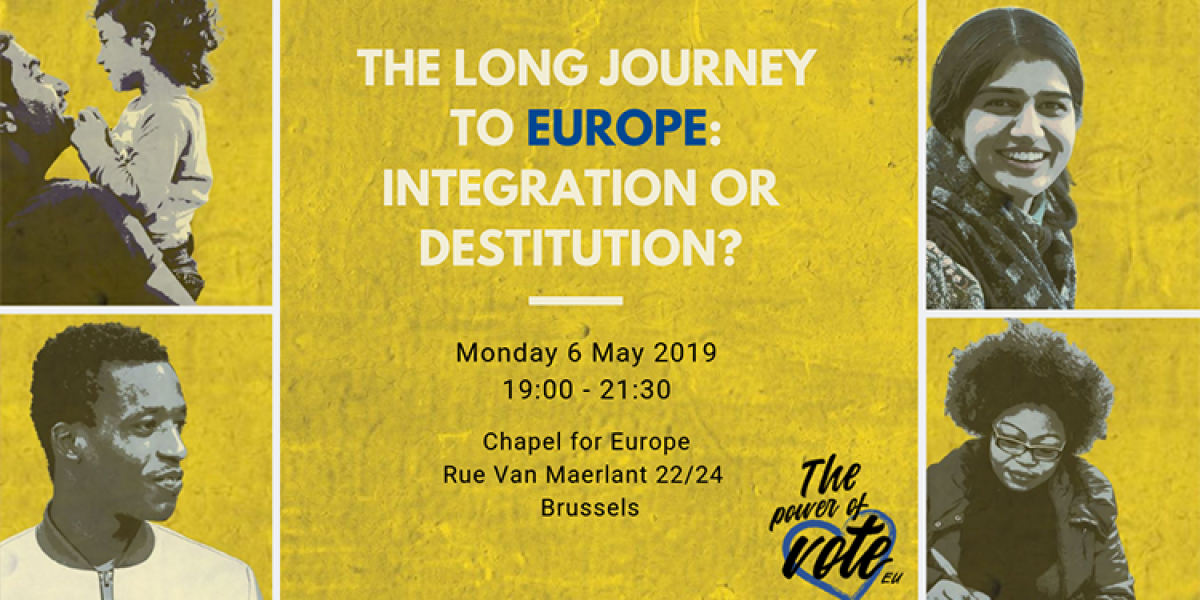 The long journey to Europe:
Integration or destitution?
Monday, 6 May 2019
19:00 – 21:30
Chapel for Europe (Rue Van Maerlant 22/24, Brussels)
With the next European Parliament elections fast approaching, and populism and anti-migrant rhetoric on the rise, understanding the complexities of migration is key to promoting a more inclusive European society.
Reconsidering the migratory journey will allow us to reflect on the challenges migrants and refugees face. Through the discussion, we hope to touch on:
Why people need to flee in the first place? What is the actual impact of European migration policies on people's lives? What does Europe need to change in order to provide people with effective access to protection and sustainable integration prospects?
We will talk about:
The drivers of migration in the African context,
Fr. Chika Onyejiuwa, Executive Secretary at Africa Europe and Justice Network
Safe and legal pathways for a Europe of protection
Flor Didden, Policy Officer Migration at 11.11.11
Evita Armouti, Policy and Advocacy Officer at Jesuit Refugee Service Europe
Building bridges in local communities for a Europe of equality and solidarity
Jie Zhang, Intercultural Mediator on Health and Helfare at Foyer Interculturele Bemiddling
Followed by:
Piano performance by Nizar Bredan featuring an extract of his album "Travelling Souls"
Reception and refreshments
**
About the artist Nizar Bredan
Born in Libya, Nizar Bredan grew up in Belgium since the age of 6, while keeping a bond with his homeland and his native culture. Along with his activity as an architect, he maintains and deepens his passion for photography since ten years, and for music since twenty years.
As a self-taught curious person, he has been playing and composing by ear since his beginnings. In addition to being inspired by the works of artists such as Chopin, Yann Tiersen and Ludovico Einaudi, Nizar enjoys an oriental-western interculturality that influences and enriches his musical compositions. These can often spark very contrasting images painted in vivid colors, echoing the style of his visual and photographic creations.
Traveling Souls is a collection of musical compositions by Nizar Bredan, in which the piano is the protagonist. The composer exposes fragments of his life as well as introspective journeys into his own inner cities. He takes the listener through emotions that are both intimate and universal, with passion, sweetness and sincerity.