Spain-Morocco: border violence
24 March 2015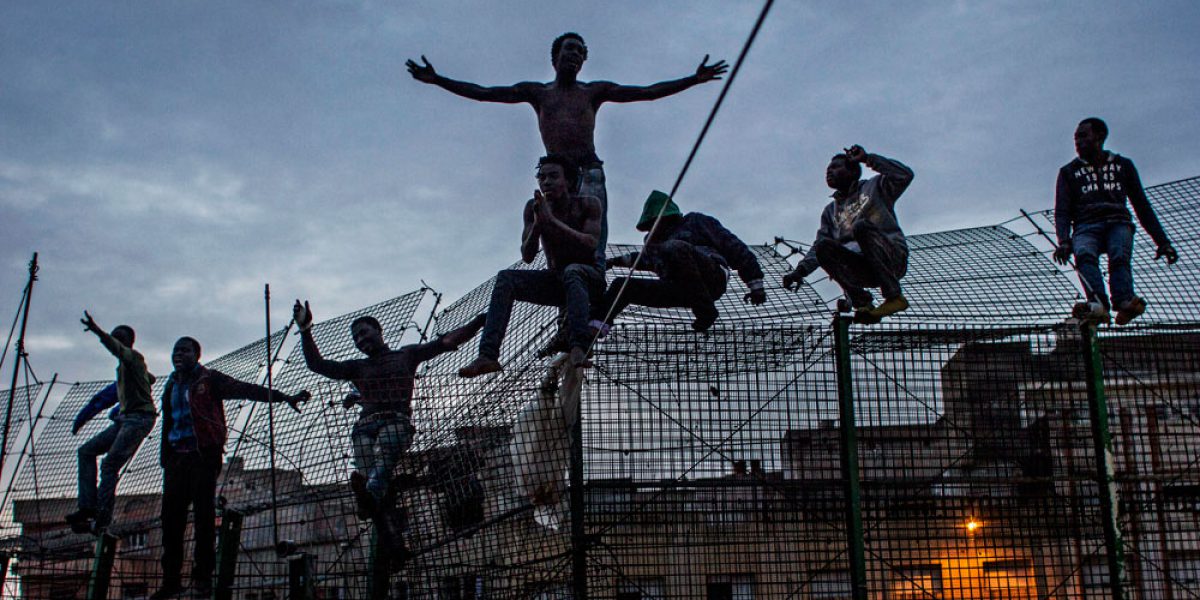 Madrid, 24 March 2015 – Together with Servicio Jesuita a Migrantes (SJM), JRS Europe is monitoring events on the Spanish land borders with Morocco very closely. Following interviews with migrants and visits to border posts at the Melilla-Nador border detailed submissions were made to an EU delegation that visited in February. JRS Europe is alarmed by recent border violence and the continued efforts of the Spanish government to legalise push-backs.
On the Spanish-Moroccan borders ever more obstacles have been put in place to try and stop forced migrants from reaching the Spanish territory of Melilla and Ceuta from Morocco. Border fences have been reinforced with more barbed wire and border patrols have increased.
Servicio Jesuita a Migrantes (SJM) and JRS Europe are appalled by the recent violence deployed against migrants. According to reports on 11 February 2015, Moroccan authorities forcefully dismantled makeshift migrant camps near Melilla.
One young migrant told the media: "Several police came and they burned everything. We couldn't do anything. They hit us, and some people are in really bad shape."
Human rights groups estimate that 1,200 men, women and children were detained and put on buses to other parts of the country. This draws into sharp focus the ongoing collaboration on border control between Spain and Morocco. Although the Spanish government has hailed this as 'excellent police cooperation,' it is time that the human cost is properly acknowledged.
Legalising Push-Backs
Currently, the Spanish government is attempting to make it legal for Spanish border police to enact summary returns of people who make it across the fences. Despite its current illegality there have been many instances of this taking place already.
In a well-documented incident on 6 February last year, Spanish border guards fired rubber bullets and tear gas at a group of migrants who tried to swim to Ceuta around the barbed-wire fence that extends into the sea. Fourteen migrants died. Those who managed to reach the beach were immediately returned to Morocco. Together with SJM and other NGOs, we continue to call for the Spanish authorities to properly investigate this incident.
JRS Europe and SJM strongly condemn Spain's move to legalise pushbacks. The law would be incompatible with Spain's international human rights obligations as enshrined in the UN Refugee Convention as well as EU legislation on asylum, borders and human rights.
In February, SJM made detailed submissions to EU delegations that visited the southern border area.
"European border control cannot be made at any cost. The reform proposed by the Spanish government represents an abandonment of human rights and a failure to sustain principles of human dignity and justice. The reform process must be stopped now," says SJM lawyer and advocacy officer Cristina Manzanedo.
Human rights must come first
The assumption that most of the migrants trying to get to Spain are labour migrants is not only wrong, but neglects the human suffering on these borders. Whilst many of them are fleeing extreme economic hardship, the UN refugee agency estimates that at least 60 percent of the migrants in Morocco are potential refugees. All have undergone long and dangerous journeys to reach Morocco and a big proportion have faced violence and abuse.
As our 2012 report 'Lives in Transition' found, sub-Saharan migrants living in Morocco and Algeria face widespread xenophobia and a constant struggle to make ends meet. Neither country has a national refugee law.
Spain along with its European partners must work together with Morocco and Algeria to ensure that the basic rights of migrants are respected. SJM and JRS welcome the introduction of asylum offices at the borders in Ceuta and Melilla but all migrants must be given fair access to them.
Several police came and they burned everything. We couldn't do anything. They hit us, and some people are in really bad shape.