Morocco: a distant view to a place of protection
25 May 2014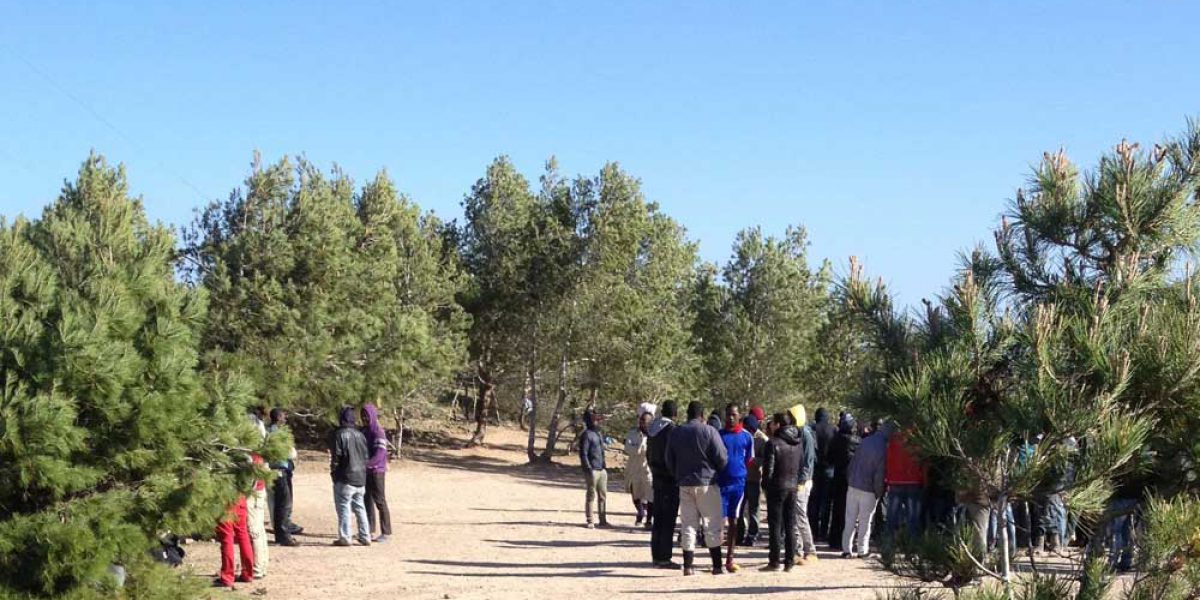 JRS Europe visited northern Morocco from 3-8 March to learn how forced migrants are living at Europe's southern borders.
From atop the Gourougou mountain, one has a bird's eye view of the Mediterranean Sea and of Melilla, one of Spain's enclaves in northern Morocco. This mountain is also where migrants wait for their chance to cross into Europe.
During our visit we met with a group of 80 migrants from sub-Saharan Africa. Among the group were women and children, including babies. Some were severely injured from attempted crossings over the fence into Melilla. The people were ill-equipped for life in the forest: tattered sandals, no warm clothing.
"The people staying in the Gourougou forest are the poorest. They are deprived of the most basic means to survive," said Stefan Kessler, JRS Europe's Senior Policy Officer who was part of the delegation.
The situation of migrants living in Gourougou is a direct consequence of Europe's closed southern border. A 3m-high barbed wire fence completely surrounds Melilla. One does not merely approach the fence and cross into the enclave. Climbing the fence is the only way in, and it is extremely dangerous.
"At the hospital in Nador (the nearest city), we saw migrants with severe head injuries and broken limbs," describes Mr Kessler. "This is the price people pay for trying to seek protection in Europe."
Last year, the King of Morocco approved a set of migration policy reforms. There are no longer reports of migrants being left at Algeria's desert border; a one-time regularisation of irregular migrants is underway. Despite this, migrants still live in severe destitution and in fear of the authorities.
"The EU counts on Morocco to keep migrants from entering Europe," says Mr Kessler. "But migrants will not want to stay in Morocco because they lack basic rights, and face overwhelming obstacles to protection".
A tragic incident in February clearly showed how migrants suffer when Morocco does not keep its end of the bargain.
Up to 300 migrants tried to scale the fence of Spain's other enclave, Ceuta. Spanish guards fired rubber bullets and tear gas. At least 15 migrants died; 23 entered Ceuta but were caught and immediately expelled to Morocco.
"Firing rubber bullets on unarmed civilians and expelling migrants without letting them access the asylum procedure is illegal", asserts Mr Kessler. "Spain flagrantly violated EU law".
"Clearly, refugee protection is not a priority in EU dealings with Morocco; but it has to be because it's the law. Migrants in Morocco have to be able to live in dignity, and they mustn't be blocked from being able to seek protection in the EU", he concludes.
Clearly, refugee protection is not a priority in EU dealings with Morocco; but it has to be because it's the law.