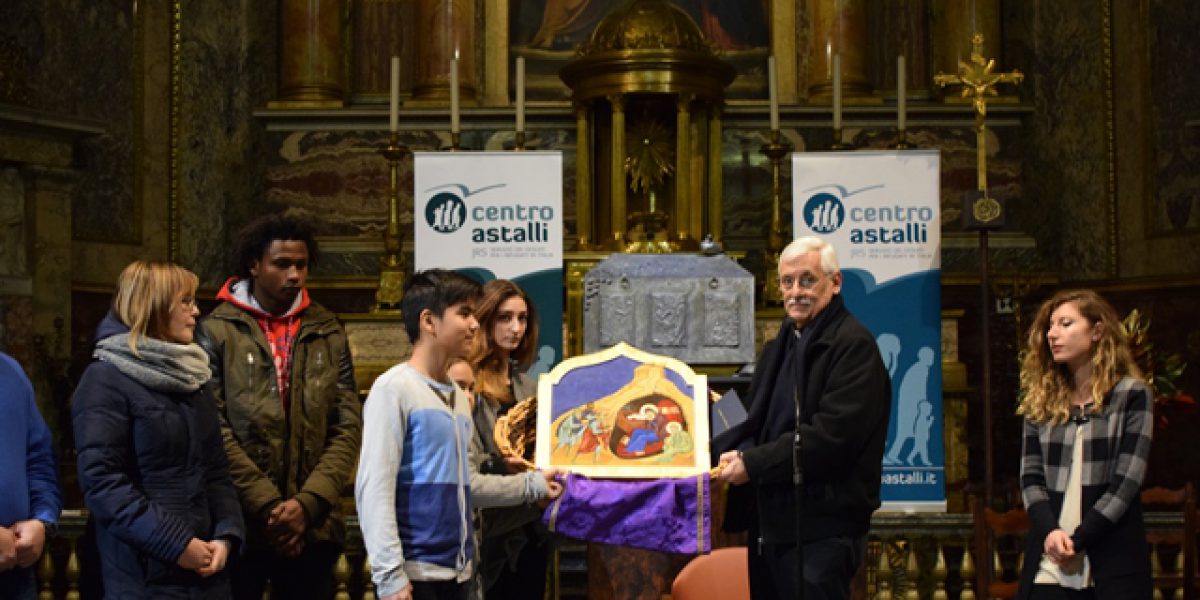 Rome, 16 January 2017 – On the occasion of the 2017 World Day of Migrants and Refugees, many refugees, volunteers and friends of JRS Italy – Centro Astalli met Fr Arturo Sosa SJ, newly elected Superior General of the Society of Jesus.
The message of Pope Francis for this day focused on child migrants and refugees as they are especially vulnerable and often invisible and voiceless. Centro Astalli has a long experience accompanying child migrants in different contexts and reported that about 26,000 unaccompanied minors arrived in Italy alone.
"It means a lot to me that Pope Francis decided to dedicate this day to refugee children" says Aziz, a 20-year-old refugee from Guinea. He had to leave his country when he was 16 years old, and travelled across Mali, then Niger, Libya and finally Italy. Aziz and other four young refugees from Afghanistan, Albania, Syria and Ethiopia shared their moving testimonies. All of them were minors when they arrived in Italy.
"My father was a wood carver in Aleppo; he was able to create wonderful objects from any shapeless pieces of wood. His job was to give shape to ideas. Today, we are like pieces of wood that need to come alive" says Mirvat, a refugee from Syria. The neighborhood where she spent her childhood no longer exists. "Those who destroyed Aleppo have also destroyed the dreams, the memories, the plans and the future of a whole generation of young people".
Fr Arturo Sosa SJ discussed his personal experience with those displaced at the Venezuelan-Colombian border. "I've seen entire families that had been forced to abandon everything to save their lives threatened by injustice and violence, and children falling victim to armed recruitment. But I've also witnessed the hospitality and generosity of many families who welcomed the refugees as brothers and sisters in search of a new life" he said.
Father General has promoted all the efforts that ensure the protection of life and the hope of child and adolescent refugees, and joined the call for safe and legal passages, better reception systems and policies of social inclusion.
Later, he was presented by refugees with an icon representing the three kings, "foreigners and itinerant men". A group of refugees and migrants from different countries then shared a message of peace for the world and their people in their native language, and offered a sign of peace to the public.
The meeting concluded with a prayer for refugees and the forcibly displaced recited by Fr Sosa.
"The only thing that matters is that our future is one of peace and freedom, because our past was marked with war and violence," says Edelawit, an Ethiopian refugee that has lived in Rome since he was 8 years old, now waiting for Italian citizenship.
While more actions are needed to guarantee the protection and safety of young migrants and refugees, the strength shown by all the speakers in rebuilding their lives gives us hope for a future of peace and reconciliation.
– Martina Bezzini, JRS International Communications Coordinator
Click here to read Fr General's full message for the World Day of Migrants and Refugees