Italy: those seeking asylum are seeking help from you
24 April 2015
|

Jacquelyn Pavilon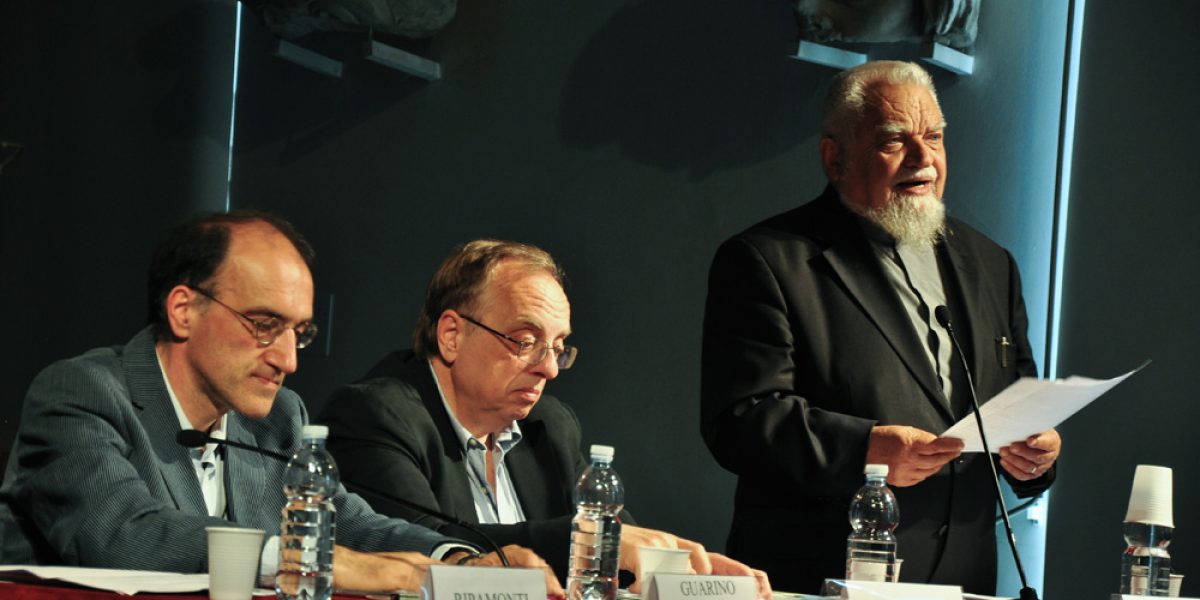 Rome, 24 April 2015 – The number of asylum applications in Italy increased by 143 percent in 2014, reaching a new record of 64,886, according to the Jesuit Refugee Service (JRS) Italy annual report. While great strides have been made to accommodate refugees and asylum seekers, more needs to be done by the Italian and European authorities to welcome and integrate the newcomers. During the presentation of the report in Rome yesterday, JRS called for a cultural shift in Europe towards hospitality and solidarity.
In light of the capsizing of two boats crossing the Mediterranean last week killing 700 people, the theme of hospitality remains an urgent issue. Camillo Ripamonti SJ, director of JRS Italy, known locally as Centro Astalli, made an emotional plea to the EU to take concrete measures to save the many innocent lives attempting to reach safety in Europe. This plea comes at an appropriate time, as Council of Ministers in Europe met in Brussels yesterday to discuss a plan regarding the tragically common theme of massacre at sea.
The issue is not an Italian one, but a European one, Fr Camillo added. Although 170,757 arrived to Italy by sea last year, many of the 34,000 refugees passing through the Centro Astalli health clinics, reception centres, soup kitchens and other programmes were 'in transit', staying in Italy only a few weeks in temporary shelters before moving on to northern Europe.
Growing numbers. In response to the record number of arrivals last year, the state expanded the capacity of the reception (SPRAR) system to 20,000 places, and capacity is expected to reach 40,000 by the end of 2015.
Integration, however, remains the unanswered problem. Although job training, foreseen under the SPRAR system and offered at Centro Astalli and other centres, makes a difference in the lives of individual refugees, nothing has been done to change the system as a whole. Most refugees, even those who are employed, rely on informal housing.
A change in attitude. Europe must change its attitude of fear of the other, said Centro Astalli Programme Director, Berardino Guarino.
"Difficult situations internationally, constant warnings in the media, economic crises and worsening social tensions risk feeding prejudices, superficial judgments and unjustified weariness about forced migration, leading to very real discrimination against foreigners, Muslims in particular".
"We should not be concerned with our fear, but theirs; the fear of entering a place that will provide them no protection," said Enzo Bianchi, founder and Prior of the Bose Monastic Community.
Centro Astalli works to promote greater awareness and a deeper understanding among Italians and migrants. For example, in 2014 more than 24,000 students across Italy were involved in educational projects regarding asylum rights and interreligious dialogue.
Furthermore, in May last year, more than 100 people participated in a training course, Impossible protection – access to asylum rights in Europe, a three-lesson course about European asylum policies and the need to create humanitarian channels to allow those fleeing war and persecution to arrive safely in Europe.
Everyone's obligation. Refugees, especially families and victims of torture, violence or international abuse, are those at risk of falling through the cracks in Italy, said Mr Guarino.
"Even after they leave reception centres, insecurity remains a constant threat".
Following the visit to JRS Italy in September 2013 by Pope Francis, in which he called on Catholics and all people of good will to "to live with generosity and courage", Centro Astalli was happy to report that 15 religious orders in Rome opened up their empty convents to accommodate and accompany refugees in 'hospitable communities'.
Last year, Centro Astalli participated in a national campaign 'Those seeking asylum are seeking it from you', urging Europeans to fulfil their personal obligations to transform society through concrete gestures, and thanked those 446 people who volunteered at its centres last year. JRS urged more individuals, states and the EU to follow this example and welcome refugees into Europe.
The conference opened with introductory words by Marino Sinibaldi, president of the Teatro di Roma, which graciously hosted the event, and was moderated by the national journalist, Paolo Fallai.
Jacquelyn Pavilon, Jesuit Refugee Service International Communications Assistant
We should not be concerned with our fear, but theirs; the fear of entering a place that will provide them no protection.