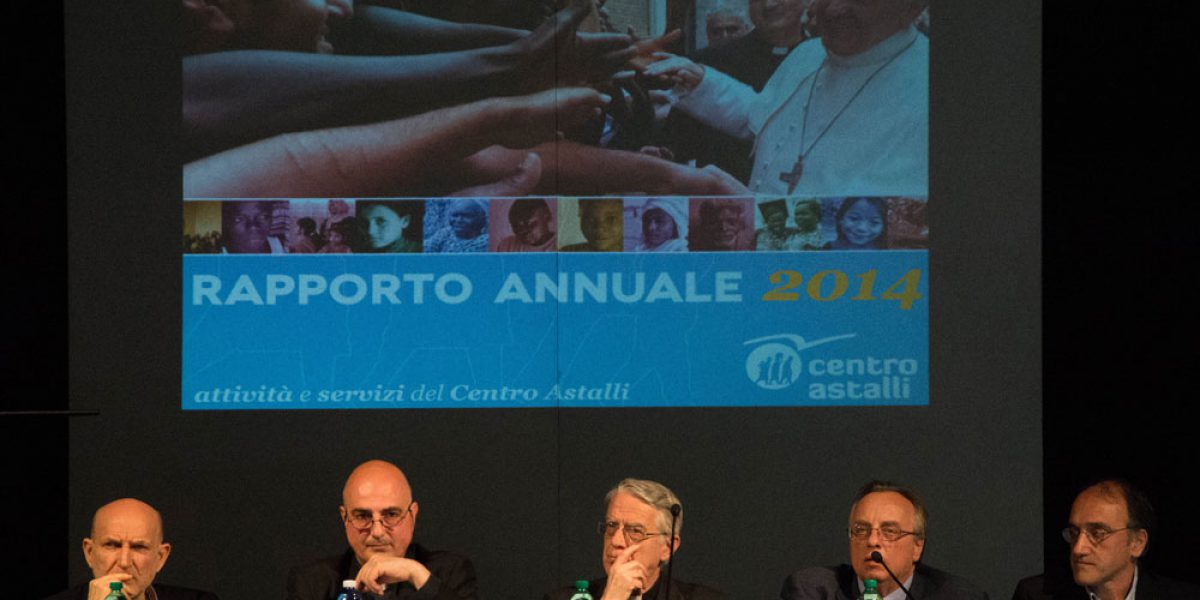 Rome, 8 April 2014 – The economic crisis in Italy has hit refugees in a particularly harsh manner. Even those who were well on the road to becoming self-sufficient have been forced to seek assistance, according the annual report by the Jesuit Refugee Service in Italy (Centro Astalli).
In 2013 Centro Astalli provided a range of health, education, housing and legal services to more than 37,000 asylum seekers and refugees in the cities of Catania, Palermo, Rome and Trento. In addition, the 46 staff and more than 480 volunteers visited schools explaining the situation of refugees to more than 18,000 students.
Speaking at the presentation of the report in the centre of Rome, Centro Astalli Director, Giovanni La Manna, urged the government to stop treating the arrival of asylum seekers as an emergency and plan long-term responses, not based on charity but on justice in line with Italy's international human rights obligations. Italy needs, Fr La Manna continued, a single unified asylum system capable of meeting the needs of asylum seekers.
With an increase of 65 percent in the number of asylum applications in Italy to 26,000 in 2013, Centro Astalli Programme Manager, Berardino
Guarino, described the consequences of mental health programmes, homelessness and unemployment on refugees. According to Guarino, if one looks at the numbers of asylum seekers in the last few years, it is clear that such fluctuations could be managed if a more planned approach were taken by the authorities.
This failure, Guarino continued, has been highlighted again and again. In January last year, two Somali men who after surviving a danger journey to what they thought would be the safety of Europe, died in a fire they had made to keep themselves warm on the streets of Rome. Some European courts have ruled that sending asylum seekers to Italy violated their rights to protection from inhuman and degrading treatment.
"Planning could help us save resources. Instead we blame the ill, the poor. This change of ideas about welfare is part of a culture of waste", said Mr Guarino.
Hospitality. Mr Guarino highlighted the visit of the Pope to Lampedusa island and the JRS soup kitchen as highlights of 2013. He gave meaning to the idea of a 'culture of encounter'.
Rather than be feared, asylum seekers should be seen as heroes, Fr La Manna said, ready to accept the consequences of defending their political and religious beliefs. Italians should not be frightened by numbers, but interested in people.
In this sense, the launch of the annual report is an opportunity to give a voice to those who face indifference, the victims of injustice. In calling on the international community to do more to end the bloodshed in Syria, Fr La Manna spoke of the significance of the work of Frans van der Lugt SJ and how up to the moment of his death he remained faithful to the people of Homs. In contrast, politicians seem unable to speak out in favour of refugees for fear of losing consensus.
In thanking all those involved in the work of Centro Astalli, Fr La Manna gave a special thanks to the religious congregations which responded to the call of Pope Francis last September and opened their door to homeless refugees and asylum seekers.
"What would our city be like if everyone welcomed in one refugee?" Fr La Manna asked.
The event ended with a few words by Vatican spokesperson, Federico Lombardi SJ and the Mayor of Rome, Ignazio Marino.
Although Pope Francis has a special interest in the reality of refugees, said Fr Lombardi, this attention should also be seen as a continuation of the work of previous pontiffs.
Planning could help us save resources. Instead we blame the ill, the poor. This change of ideas about welfare is part of a culture of waste.