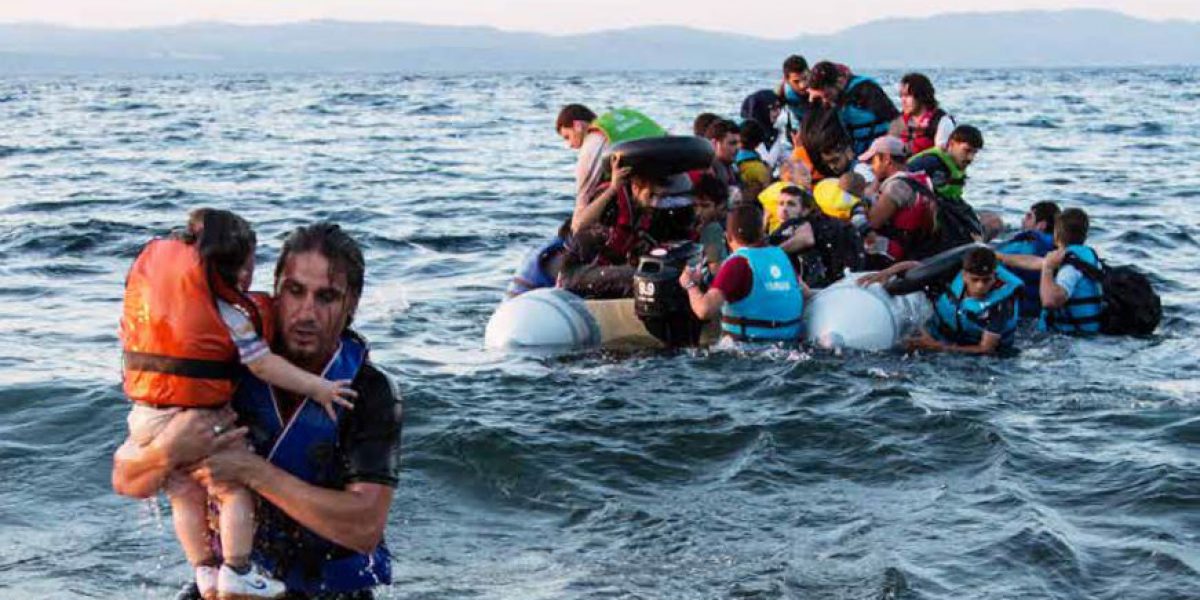 A new JRS Ireland report launched in Milltown today, Sharing Responsibility, Saving Lives critically analyses Ireland and the EU responses to the Refugee Crisis between September 2015 and December 2017. At the height of the EU Refugee Crisis in September 2015, Ireland committed to providing 4,000 places under the Irish Refugee and Protection Programme (IRPP) by the end of 2017.
Among the report's key findings are that Ireland will fail to reach the original commitment of 4,000 places by the end of 2019, more than 2 years after the stated 27-month programme timeframe elapsed. In the same period, the EU has failed abjectly to deliver on its own relatively modest commitments, with only one in five of the promised 160,000 relocation places delivered by the end of 2017.
Mr. Eugene Quinn, National Director, JRS Ireland stated: "Ireland has mirrored other EU Member States in falling far short of its targets. Operational difficulties and the impact of the housing crisis must be acknowledged. Nevertheless, at the end of 2017 Ireland has delivered 1,570 places out of 4,000, with a further 525 deferred. Adding in publicly announced targets for 2018-19, Ireland will fail to reach the original commitments by the end of 2019, more than 4 years later. Ireland can and should do more."
This week UNHCR announced there are a record 68.5 million persons forcibly displaced worldwide. In the three-year period 2015-17, one and half million people arrived by sea seeking refuge in Europe. 11,986 persons, men, women and children, lost their lives at sea making these journeys.
Fr Ismael Chan Gonzaga SJ of the Vatican's Migrants and Refugees Section, delivering the keynote address, emphasised that nobody should be comfortable with this reality: "Over three years more than 1.5 million men, women and children took to seas in flimsy vessels heading to Europe in search of safety and protection. 12,000 died at sea making those journeys. Faced with the scale of human need and loss of life, we are all called to act. The time for action is now."
Commenting on the increasing rates of deaths at sea, Mr Quinn added: "Although significantly fewer people are arriving by sea since the EU-Turkey Deal in 2016, the rate of deaths has increased. 1 in every 50 forced migrants died trying to enter Europe in 2017, a rate 5 times higher than in 2015. Truly the Mediterranean has become a cemetery."
There is a moral imperative to save lives. The report commends the role of the Irish Navy as part of EU search and rescue operations that saved 445,000 lives since 2015. But it questions how responsibility is shared across member states to receive and protect those saved. It concludes the EU has failed to uphold its founding principles in responding to the EU Refugee Crisis. The EU-Turkey deal was effective in stemming the arrivals by sea but represents a betrayal of European values. Essentially rather than sharing responsibility across member states, Europe is shutting its borders
Finding suitable housing is identified as the greatest challenge facing persons granted protection or permission to remain in Ireland. Lack of accommodation even delayed the arrival of persons from Greece and Lebanon. National housing policy should incorporate the needs of protection seekers and a consistent model of integration supports should be provided to all persons granted status, irrespective of their pathway to protection.
The EU Refugee Crisis is not over. In face of the scale of human need, the report concludes we are all called to act, as individuals, as communities, as Church and as States. The time for action is now.
Ireland has mirrored other EU Member States in falling far short of its targets.