International Women's Day 2017
08 March 2017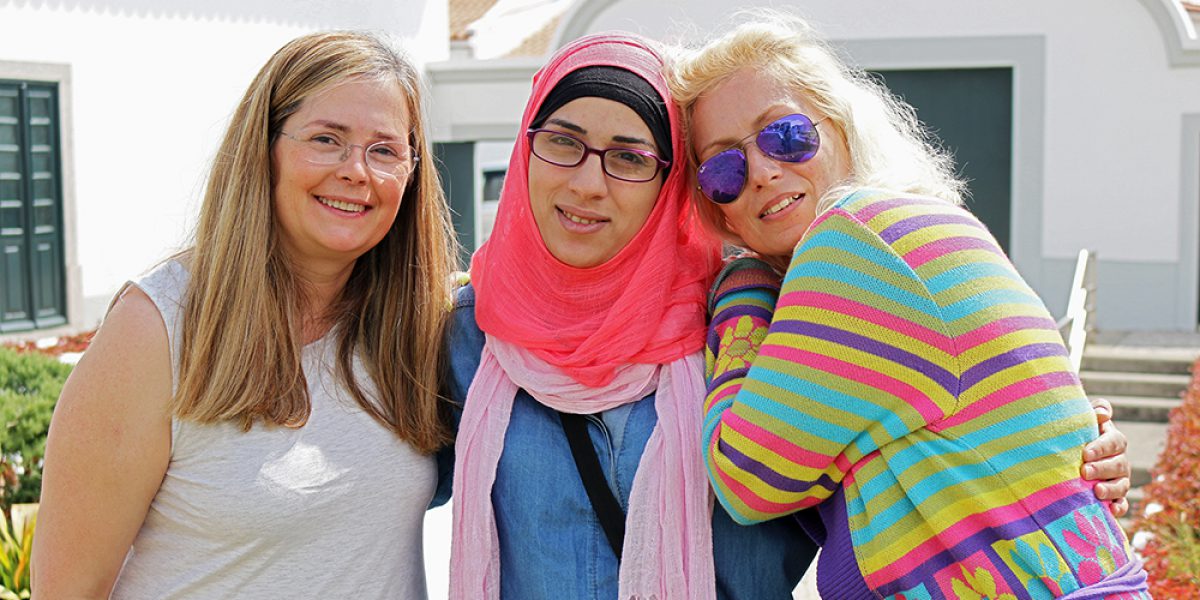 Brussels , 08 March 2017 – To celebrate International Women's Day 2017, we asked women who work with JRS around Europe about what it means for them and for the women refugees they accompany.
What does international women's day mean for you?
"It makes me spontaneously think of the courageous women I know, those who create remarkable lives for themselves and the people around them." – Elisabeth Razeberger, JRS Belgium
"Today the same rights won through hard struggle by previous generations of women in Europe must be guaranteed to women migrants arriving in Europe, helping them find a better future for themselves and their families." – Donatella Parisi, JRS Italy
"It reminds us how much work there is still to do – to walk equally safe in the streets at night as men do, to get equal pay for the same work, to have equal control of our own bodies and to have equal opportunities in society and life in general." – Dorothee Haßkamp, JRS Germany
"A day to come together and celebrate us, share our experiences, learn from each other and about each other. A day to re-fill our batteries so that we can go on even stronger than before." – Bianca Albu, JRS Romania
What are the main challenges faced by women refugees today?
"The greatest challenge for women, and in particular for refugee women, is to win respect. Respect for their rights as a person, respect for their beliefs, respect for the suffering of their pasts and respect for their dreams." – Inês Braizinha, JRS Portugal
"All forms of violence committed mostly by men. Further, in many countries of asylum they face more obstacles in access to services like language courses, labour market etc: that is especially the case for single mothers." – Dorothee Haßkamp, JRS Germany
"Among refugees, women and girls especially have experienced vulnerability at every stage of their traumatic journey including sexual assault, extortion, exploitation and other rights violations." – Cecile Delaplanque, JRS Greece
"Women have or should have a crucial role in peace building. Women refugees, witnesses and victims of violence and persecution, are the symbol of resilience to pain and abuse. The participation of women refugees is necessary to build inclusive and democratic societies." – Donatella Parisi, JRS Italy
What are the main strengths that women refugees have?
"The strength to start from scratch even when the odds are against them and it seems impossible. The strength to rebuild a life and to enliven those around them to do the same. The capacity to share their hope and their belief that a brighter future is possible." – Inês Braizinha, JRS Portugal
"Their life story and their capacity to adapt and readapt for their families." – Bianca Albu, JRS Romania
"Refugee women become experts in keeping their families alive. They keep on nurturing their hopes for a life in safety and peace during times when the outcome of their journeys is entirely unknown. They are resilient and learn to create the experience of a home and being at home with very little means." – Elisabeth Razesberger, JRS Belgium
"Refugee women are a gift for societies that receive them." – Donatella Parisi, JRS Italy
"Refugee women are full of resilience, courage and dignity. They have the capacity to face and adapt to new environments and often play a leading role in the recovery process of a family." – Cecile Delaplanque, JRS Greece
"Many of them, by what they have lived through and accomplished, defy normative gender stereotypes." – Dorothee Haßkamp, JRS Germany
"Refugee women are a gift for societies that receive them." – Donatella Parisi, JRS Italy