Celebrating with refugees in Europe
15 June 2015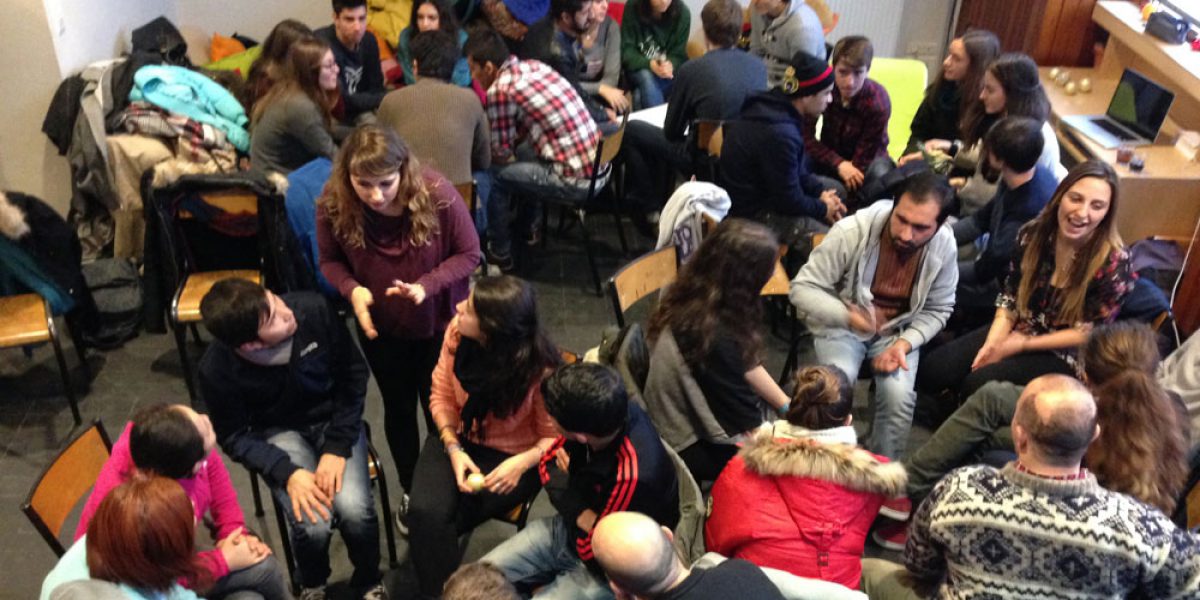 Brussels, 15 June 2015 – World Refugee Day is marked on 20th June. In some countries there is also Refugee Week from 15 to 21 June. Together with JRS teams in 13 European countries and close partners in a further nine, JRS Europe invites you to reflect on what it means to open your door to someone in need.
We often read reports about atrocities in Syria, killings in Libya or upheaval in African states such as South Sudan. Are these conflicts really so far away? Every day, there are men, women and children from these countries knocking on our doors in search of a life free from violence and constant fear.
According to the UN refugee agency 80 percent of the world's forcibly displaced are hosted in developing nations. A very small proportion of those fleeing war and persecution reach Europe and yet we hear talk about 'huge flows' and concerns about societies being 'overwhelmed.'
Whilst anti-immigrant voices are loud, the actions of those that welcome migrants speak louder than words. JRS staff, volunteers and supporters not only accompany, serve and defend forced migrants, but they try to build communities together with them.
Since January 2014, the My Place centre in Bucharest established by JRS Romania has been a vibrant gathering place for forced migrants with everything from coffee meet-ups to dance classes. JRS UK has run several photo workshops with asylum seekers, empowering them to document their experiences.
In France, Welcome Youth started with a range of diverse activities organised by French students together with young adult asylum seekers.
These are just some examples of the ways in which JRS strives to go beyond services such as education or legal support and deepen its accompaniment to create real communities of hospitality with those forced to flee their homes.
As World Refugee Day is marked this year, let's spare a moment to think about how we could practice hospitality. To open your door to a stranger takes courage, but small acts of generosity can eventually open up whole new worlds. It's time to open our doors. Let's meet with refugees and migrants and be together in friendship and hope.
JRS in Europe activities:
Zagreb, Croatia
16 June: a table tennis tournament for people in the Ježevo detention centre.
19 June: audio-visual exhibition on Ban Josip Jelacic Square with videos, photos, testimonies and other material shown on three 60'' TVs.
20 June: prayer vigil in Zagreb Cathedral from 7pm dedicated to Mediterranean boat refugees.
Rome, Italy
20 June, 3pm: National demonstration 'Fermiamo la strage subito!' to ask European institutions for more effective initiatives to stop deaths in the Mediterranean Sea
6-11 pm: will take part to the event 'Per il diritto alla fuga e alla vita' (For the right to life and to escape), promoted by Roman local authorities in collaboration with many NGOs.
London, UK
Refugees from the JRS UK centre in London will volunteer as tour guides in the Wallace Collection art gallery as part of a family fun day.
http://www.wallacecollection.org/collections/event/6843
Dublin, Ireland
Will call on the Irish Government to commit resources in support of the increasing number of former asylum seekers struggling to overcome the challenges associated with transitioning to life outside Direct Provision.
Brussels, Belgium
20 June: team members will distribute information flyers in different train stations in the country.
Vigil and demonstration for the unknown drowned migrant at the Beguinage Church in Brussels in cooperation with other organisations.
Valletta, Malta
24 June: inter-religious memorial service for those who died trying to cross the Mediterranean Sea.
Lisbon, Portugal
19 June: JRS-Portugal will sign a protocol with Lisbon Municipality regarding houses' assignment to the resettlement project 'Seeds of Hope'. An accompanying conference on resettlement will include testimonies from refugees accompanied by JRS-Portugal.
26 June: Celebration of Portuguese festival 'Sardinhada' together with refugees and locals. Traditional food (plenty of sardines), music and other activities will be on offer. JRS Portugal expects a gathering of around 100 volunteers, staff and migrants.
It's time to open our doors. Let's meet with refugees and migrants and be together in friendship and hope.