Studying the Croatian language as a pilot project of the JRS Croatia
11 February 2022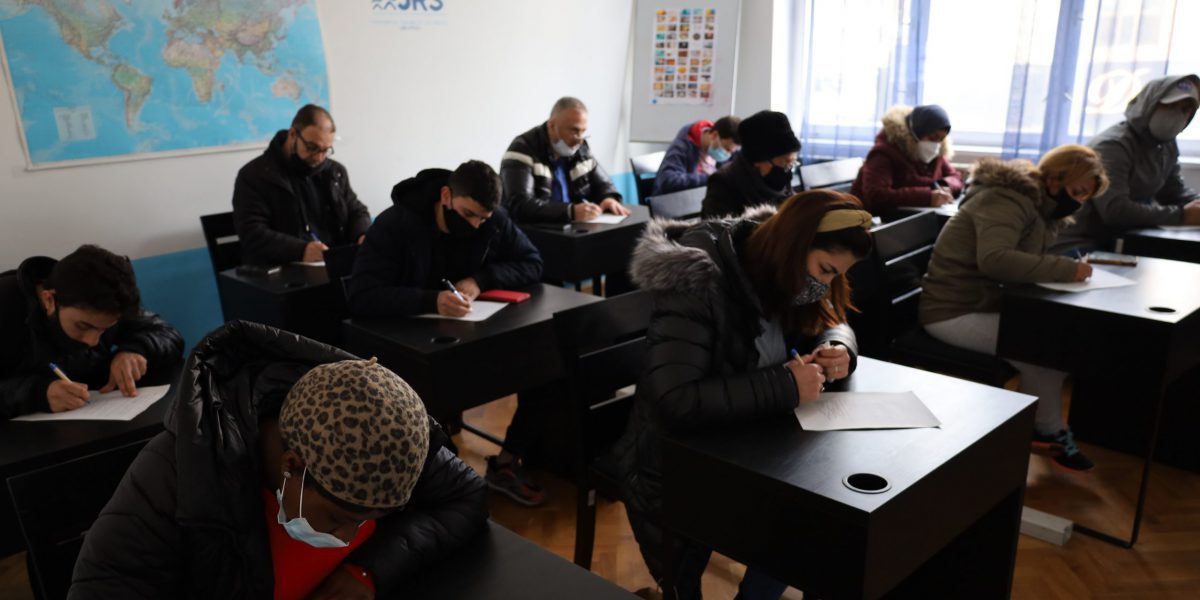 This article appears first on JRS South East Europe.
In their work with asylum seekers, NGOs often focus on the first steps of integration. The question that arises later is: what can we do with the people who have been in Croatia for four or five years?Through experience, it became clear that their main need is knowledge and a certificate of a higher level of the Croatian language. Why? The most important reason is that with a five-year stay in Croatia, they have the right to apply for permanent residence. For this, it is necessary to submit a certificate of knowledge of the Croatian language at the B1 level. The state offers, through the Ministry of Science and Education of the Republic of Croatia, a language course, but this is only the basic level. That is not enough for this group. One non-governmental organization tried to resolve this situation through cooperation with the Faculty of Philosophy, where a course and exam at the B1 level of the Croatian language was offered to asylum seekers free of charge.
Unfortunately, once that action was over, JRS discovered that there were a number of people who were still in need and who had missed that opportunity. On the one hand, asylum seekers lack adequate structured preparation for the language exam, on the other hand, the financial situation makes it impossible for them to pay for existing courses. For example, the price of a Croatian language course for one degree may cost € 700 per semester, or € 450 for a one-month course, while the exam itself is € 119.98. The ones in need are mostly those who have families, and also need to pay rent and utilities, food, children's needs (school, clothing, etc.). To afford something like that is a luxury from a financial point of view, and yet it is necessary in order to be able to request permanent residence. It would be absurd that they live, work, and find their home in Croatia, and then, due to lower incomes and consequent inability to study, they cannot request permanent residence in the near future.
JRS recognized this and launched a pilot project that would open up new learning opportunities for them. In the previous two weeks, the SOL Integration Center held written selection tests, which were attended by 39 women and men, 16 of whom passed, and will be invited to an oral exam. A 70-hour curriculum has already been prepared for them, organized over 9 hours per week. After the preparation, they will have one paid attempt at passing the official test. Effort and studying are already a reward in themselves because they will be felt in the raising of their quality of everyday life, but we hope that they will also get to pass the test and get a diploma that will open the door to permanent residence, better jobs, etc.
As this is a pilot project, funds are provided for a limited number of participants. These funds cannot meet current needs, and JRS is already looking for potential future partners who would enable more refugees to prepare well for the B1 degree testing. In addition, a good knowledge of the Croatian language would greatly facilitate integration into society and help overcome the language barrier that often makes them trapped in poverty from which they cannot get out on their own.